About our business
Well established in the Garden Shed and garden fencing market. Abbeylawn Garden Sheds is in operation since 1995 and continues to expand and bring out new lines to our products every year.  Abbeylawn offers the reassurance of custom-built products to meet all your individual needs. With the Garden enthusiast in mind, we offer a vast range of Garden sheds and garden fencing supplied and fitted  in a choice of finishes, all built to specification and delivered and erected on site.
Select from Abbeylawn's impressive range of garden fencing, picnic benches, Garden picnic tables, trellis, arches and swing seats and you can be rest assured it won't blow away and there is also the option of Pressure Treated furniture which no matter what the weather is like you can leave it outside.
Custom work
The perfect garden caters for the entire family so we at Abbeylawn try to keep up to date on children's requirements and what child wouldn't love a Tree house, complete with stairs and the option of swing or slide. If you prefer to keep their little feet firmly on the ground we have various other options such as the Dormer Den or the Wendy House as an alternative.
We at Abbeylawn are specialists in the design and manufacture of equestrian buildings. Our aim is to ensure the stables you buy are right for you and your horse.
Abbeylawn Equestrian Supplies.
Abbeylawn supply a wide range of equestrian products including Timber stables and field shelters, Show jumps, Cross country jumps,and Rubber mats for stables.
We are also the biggest supplier in Ireland of Pony Games and mounted games equipment ,Dressage arena boards and  markers , Cross country course markers and flags and  Show jump numbers.
Rubber mats.
We are one of the main suppliers of rubber mats in the country.With a wide range of products from farming to Gyms and creches.
Our agriculture mats include slat mats in all sizes, Cubicle mats and stable mats.
Our Gym mats are in a range of options to suit small and large gyms.including mats for Martial arts ,TRX , yoga and much more.
In Creche mats we have a range of options also for 18 mm to 42 mm thick in mats.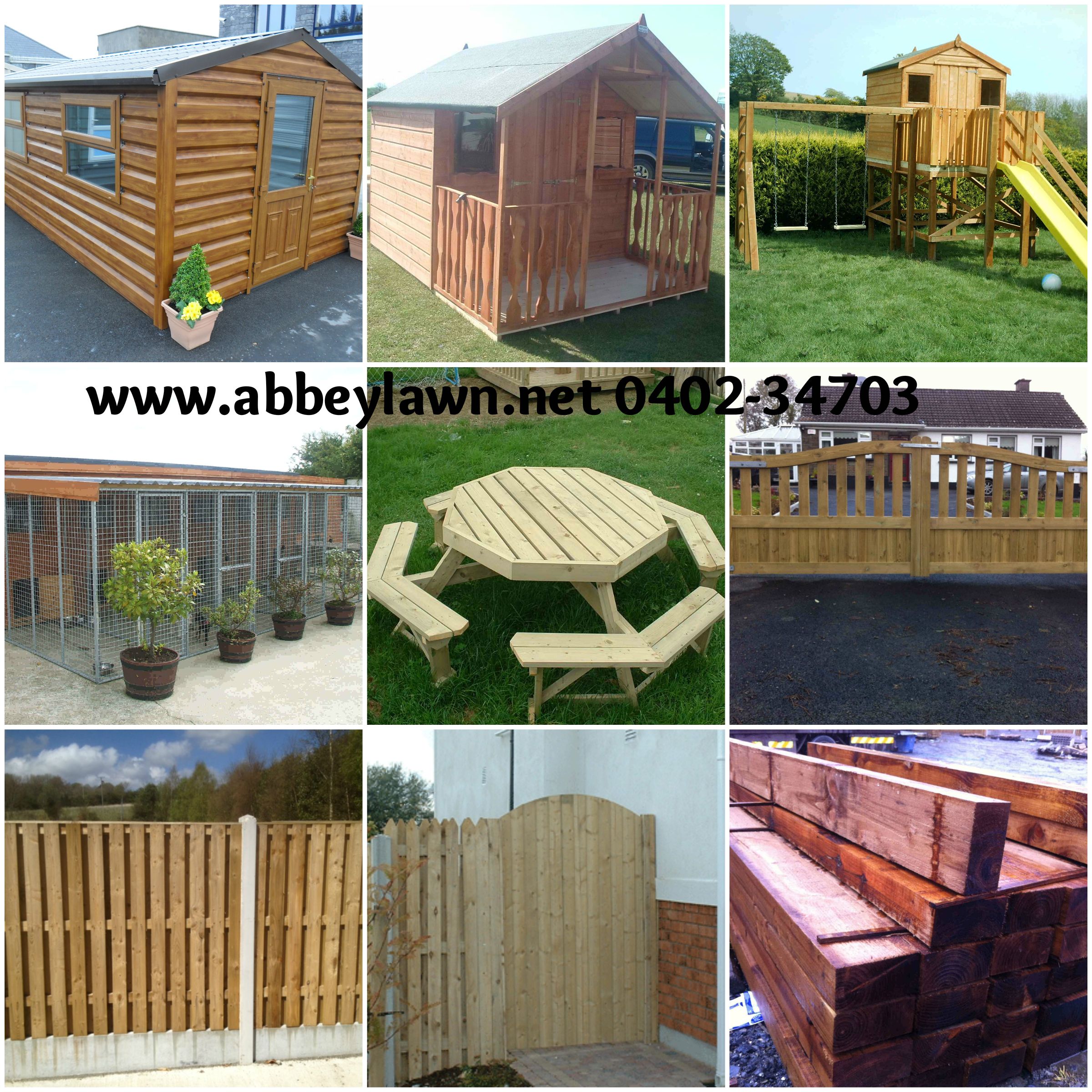 Abbeylawn Garden Fencing
Abbeylawn can supply and fit any of our garden fencing panels in timber posts or in concrete posts. We dig out the holes in the garden by hand with a bar and spade, so we do not make a big mess bringing in a digger to dig holes. We then fit the post in the hole and fill back around the post with concrete mixed on site. In most cases we do not need to see the garden. What you can tell us over the phone will do us for to price a job. Or even if you want to send us a picture of the area we can see what you want.
We have a full display in our show yard that you can call and see. All the different types of fencing are on display to see.
Contact Us today about our Garden Products.