Gates – Entrance Gates
ALL OUR TIMBER GATES ARE MADE FROM PRESSURE TREATED TIMBER
AND ARE FINISHED TO A VERY HIGH STANDARD ALL GATES COME WITH GALVANISED HANGERS AND FASTENERS AND ARE NOT EXTRAS
WE ALSO MAKE GATES TO ORDER TO FIT THE OPENINGS YOU HAVE ON TIMBER POSTS OR CONCRETE ETC WE DO NOT CHARGE FOR OFF STANDARD SIZES FOR MORE DETAILS PLEASE RING OUR YARD AND WE WILL DO OUR BEST TO HELP YOU WE ALSO CAN FIT GATES FOR YOU AT VERY GOOD PRICES.
Timber is a natural product and does shrink and swell due to weather.It may also get small cracks in the timber during hot weather but this is normal.
Arch Top Entrance TIMBER GATES
 Arch Top Timber Gates
All our Timber Gates can be delivered nationwide or Fitted in Leinster area .We can also fit the fencing and the return up to the Timber Gates .
This type of  timber gates are  an ideal gate for most entrances big and small
They can be hung off concrete piers or timber posts
They range in height from 4′ to 6′ high
There is an option to have a gradual curve on top or the stepped up like the gates in this picture
All our timber gates come with hinges and fasteners to suit your hanging conditionsThe timber used in making the gates pressure treated and comes in a light green finish .We recommend that you paint over this timber but the timber gates should be left for about 2-3 weeks  after going up to all the timber to dry out proper .
If you need help deciding on your entrance you can email me a picture of your entrance
and I will try to advise you
These Timber Gates can also be hung using the under ground or over ground type electric gate openers . If you have the gate boxes in the ground we can make a bracket for to sit the gate into like a shoe for the gates and a standard hinge on the top .
ALL OUR TIMBER GATES ARE MADE FROM PRESSURE TREATED TIMBER,AND ARE FINISHED TO A VERY HIGH STANDARD.ALL TIMBER GATES BOTH ENTRANCE GATES AND FIELD GATES  COME WITH GALVANISED HANGERS AND FASTENERS AND ARE NOT EXTRAS WE ALSO MAKE TIMBER GATES TO ORDER TO FIT THE OPENINGS YOU HAVE ON TIMBER POSTS OR CONCRETE PILLARS.
WE DO NOT CHARGE FOR OFF STANDARD SIZES.
FOR MORE DETAILS PLEASE RING OUR YARD ON 0402 34703 AND WE WILL DO OUR BEST TO HELP YOU.
WE ALSO CAN FIT GATES FOR YOU AT VERY GOOD PRICES.
Timber Entrance Gates.
The Manor Timber Entrance Gates
This set of timber entrance gates has a solid bottom part and a smaller top part that is open. The gates are all mortises together and are then pressure treated. The timber entrance gates all come with galvanized hinges and fasteners. We have a wide range of hinges to suit most openings.
This Gate comes in a range of sizes and heights to suit your pier openings .All we need is the width from wall to wall and the height under the pier caps. Also it is important to note if there is a slope on the ground from side to side as this will affect the look of the gates when fitted.
All our Timber gates are Pressure treated
The best time to fit your timber entrance gates is before you finish your yard or tarmac the drive.
We can also make matching Pedestrian timber gates like this gate any size to suit your walls. This gate is fitted to a wall for a side entrance.It is ideal where you will see the main gates and the pedestrian gates in the same area. This can also be used as a side gate on its own.
We also have other types of pedestrian gates and aside gates on display in our yard.
This is a picture of the lower gates.But the same as above.The gates in this picture are 4′ high.And can be made to any width or height to suit you .
They can be hung on timber posts or on concrete piers.
Arch Solid Sheet Gates
Arch Solid Sheet Gate
This is a solid sheeted gate to the front with the braces showing on the inside
The gate comes in a pressure treated green finish and can be painted any colour after the gate is fitted
We can Make gates any height and width
To fit on Timber posts or Concrete Pillars
Pair Entrance Gates
Entrance Gates flat top
This is a budget gate that is very strong and can be made in a range of heights and widths to suit .The timber is pressure treated and comes in the light green pressure treated finish ,And can then be painted in a colour to suit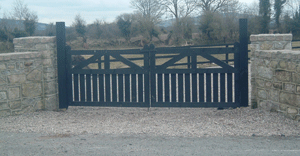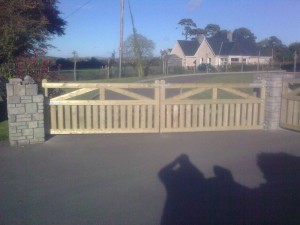 Arch Picket type gates
Arch Picket Gates
This type of gate is ideal for going to the side of a house at up to 6′ high ,The wind can still get true the gates and still stops people seeing true .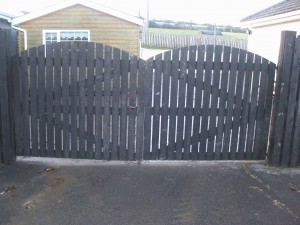 Double Sided Arch Picket gates.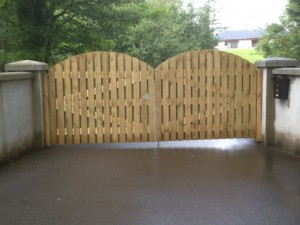 Arch picket Double Sided Picket gates
The Arch Picket gates come in double and single sided finishes .They are ideal at the side of a house as they can be made up to 6′ high. They also allow the wind to get true them.They can be hung on timber posts or off the wall of the house .The normal is arch top but can also be flat top if you want . We also can make pedestrian gates to match.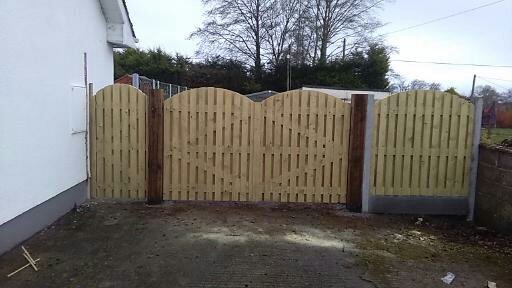 Arch T G V double Gates
We also do a solid type call T G V Arch gates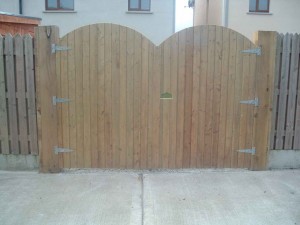 Timber Sheeted Steel Gates
Timber Sheeted Steel Frame Gate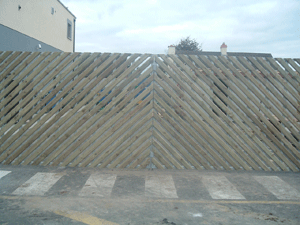 PAIR OF 12′ WIDE ENTRANCE GATES AND 5′ HIGH IN THE CENTRE FITTED USING UNDER GROUND ELECTRIC OPENING SYSTEM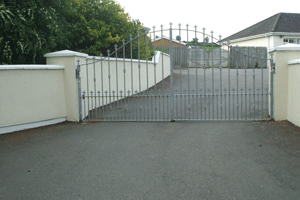 PAIR OF ENTRANCE GATES 12′ WIDE AND 6′ HIGH IN THE CENTRE WITH SPEAR HEAD TOPS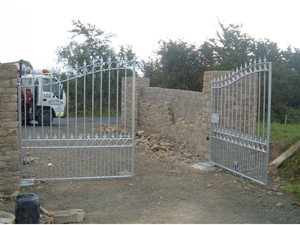 GALVANISED STEEL GATES
We make all gates to order so you can give us the design  you want
Arch Top Entrance Gates – 4′ High