Pony Games Equipment
Abbeylawn Supply a full range of Pony  Games equipment for Pony Club and Mount games assocation MGA equipment.
All our pony games equipment are suitable for competition and home use.
This is a selection of our pony games equipment ,I you ring us for details we can deliver nationwide by courier .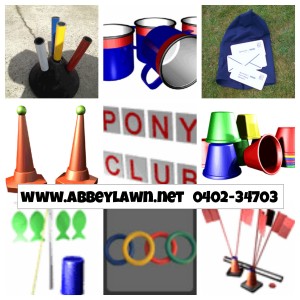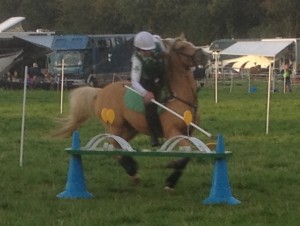 Pony Games and MOUNTED GAMES SETS
Flag Race Kit for Pony Games
5 Complete Flags, this set comprises of a cotton flag with ties
and a flag stick made of plastic. Comes with 2 Flag Cones
Also comes with tube to store flags in. €75.00 Per Set.

Plastic Bending Pole Set
This Kit has 5 No Bending Poles

These bending poles have a higher impact break point than the wooden bending poles and, more importantly, when they do break they do not shear causing a sharp point that could damage a child or pony, instead they tend to buckle.
€70.00

Bending pole set for sand arena.

This kit has 5 bending poles and comes with weighted 58 Kg. Base

 and will stand in an indoor school or artificial surface without causing any damage. The pole is inserted into the base and can be removed, please note that this is not usable as a normal bending pole.

€35.00 each or €160.00 for a set of 5 poles

Timber Bending Poles for pony games
Not Painted
This has 5 No Bending Poles
€95.00

Mug Kit
This set consists of 5 Enamel Mugs approx 4" diameter.
€32.00 per set or  €7.00 per Mug
Postman's Kit
Race Kit contains 1 Postman's Cotton Sack and 4 Postman's Letters
€20.00 Per Set or Letters €3.00 each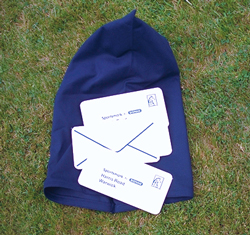 Ball & Cone Kit
The Ball and Cone kit consists of
2 Tennis Balls and 2 Ball Cones €25.00 Per Set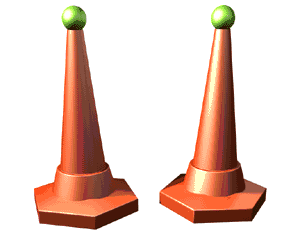 Quoits / Rubber Rings for pony games
The set comes complete with 4 rings that are made from rubber.
€25.00 Per Set

Fish Race Kit.
This set consist of 4 Fish 1 Unistick, 1 4ft Gibbet and a Litter Bin €125.00

Stepping Stones
Pack of Six Self Coloured Plastic Stepping Stones Inc Carrying handle.
€55.00
New Litter Bin with Table Top
19" High with red lid €50.00 each.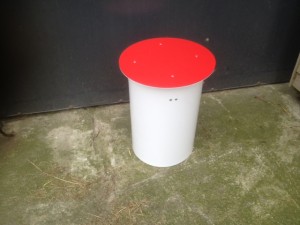 Pony Club Letter Set
for pony club
Set of 8 Plastic Panels Printed with Letters
€20.00 per Set

7ft Race Gibbet
Plastic Gibbet for use in games such as Pony club
€50.00

4ft Gibbet with 4 Hooks
Plastic Gibbet used in Fish Race
€38.00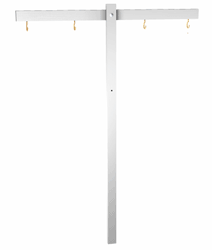 Fish 
Fish Screen printed 2 faced fish for use in Fish Race
€9.00 each

Balloon Board.
This 6ft board designed so the balloon does not have
to be tied It is hinged in the middle for easy transport.
€35.00

Hat Band 50 mm wide. 
Last rider hat band made from nylon with adjustable fastening.
€5.00

Unistick with Fish Hook.
4ft Stick for Fish Race.
€10.00

Unistick
4ft Stick with adapter to accept other fittings.
€8.00

Unistick Fish Hook Attachment
Another Attachment for the Uni-Stick so that it can be used for the very popular Fish race.
PRICE €2.00 EACH

UniStick Pin Attachment
To Transform your Uni stick in readiness for the Balloon Race.
PRICE €2.00 EACH

Sword for pony games and M.G.A. 
There are two different types of sword available dependent on the organisation that you compete with. The fundamental difference is that the hilt in Pony Club measures 300mm whereas for the MGA the hilt is 230mm. The blade for both competitions is 600mm.
€38.00

Sword Ring
Tough Plastic rings formed to fit bending poles.
€7.50

Racquet
Like a regular tennis racquet but with cross pins to limit hand position
€15.00

Ball Cone  and flag cone 
 Specially moulded for competition. €12.50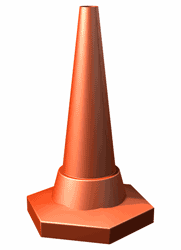 Tennis Ball Set
Pack of 5 Tennis balls.
Have been pressured to provide a low bounce.
€8.50 Per Set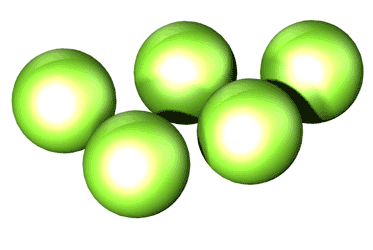 Multi Pan
Commonly used in games. Plastic pan metal support.
€17.00
Plastic Baton
1 12" Plastic Baton
€4.50

Plastic Flag
1 Cotton Flag with flag stick made from plastic
in a range of colours
€9.50

RopeQuality multibraid rope sealed at each end to prevent fraying.
Dimensions:- 920mm (L) x 12mm diameter
 in a variety of colours €7.50 each 
Sock 
5 socks available in a set sewn at each end so they withstand the rigours of competition. Each sock measures approximately 75 mm in length and 50 mm in diameter, available in a range of colours.
€20.00 per set of 5
Litter Race Tube
This is the BR bottle cut such that the height of the tube is 6.25″ (155mm) with the base left in. Used with the unistick in the litter race.
PRICE €3.00 EACH

BR Bottle for pony club
Approved for race competitions this bottle has a shaped neck for easy handling, white only. Measures 10.25″ (260mm) with a neck of 2″(50mm) and a widest diameter of 3.25″(80mm) at the waist.
PRICE €3.00 EACH

Pony Club Sleeves Kit ( 8 in the set ) for pony games
A set of plastic panels with screen printed letters on both sides such that "Pony Club" may be read from both sides. These are typically used with the 8ft Gibbet. This game is used for pony games in England and Wales not in Ireland .
This  Game is not played  in the rep. of Ireland 
Kit Dimensions:- 200mm by 200mm by 25mm Each one is 3mm deep
Kit Contents:- 8 Letters
Colours:- White with red writing on the sleeves 
Weight:- 0.85Kg
Price  €35.00 per set 

These Nylon covered Beanbags are now available and are suitable for u 10 games .Sold individually for €3.00 each. Or in a Set of 4. for €10.00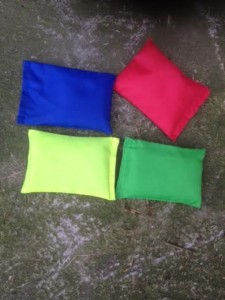 Pyramid Race Containers. Set of 4 square containers suitable for pony club competitions. The containers are plain on the sides but can have logo or name on them.You will need to add the sand for weight yourself . Set of 4 square containers are €18.00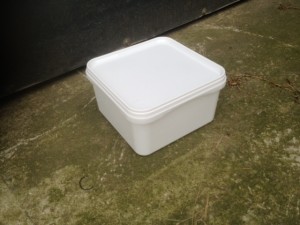 Set of 4 containers supplied empty are €18.00
MGA Association  Race Containers 
Set of 5 Containers with colours and letters suitable for competitions.
these are €40 per set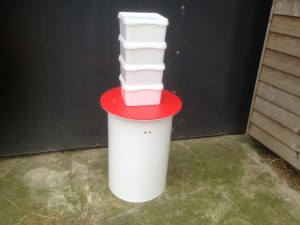 MGA Bin suitable for competition
This is a good strong bin for all MGA games for training and competition use.
This is great value at €30.00 each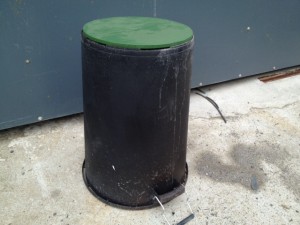 MGA Bin suitable for competition
This is a good strong bin for all MGA games for training and competition use.
This is great value at €25.00 each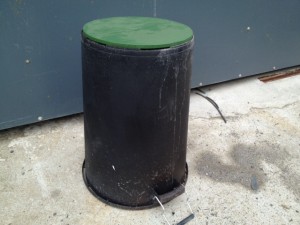 This is the range of Pony Games equipment that we stock .We can deliver nationwide by courier normally in 2-3 days from order .All you need to do is ring us with a list or email us a list of the pony games equipment  and your phone number and we can get back to you .
Mounted Games Equipment for M.G.A
Mounted Games Equipment.
We are the only company in Ireland that  supply a full range of pony games and mounted games equipment from Stock.We can deliver nationwide by courier at great rates.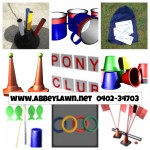 Flag Race Kit 5 Complete Flags,
This set comprises of a cotton flag with ties. and a flag stick made of plastic. Comes with 2 Flag Cones. Also comes with tube to store flags in. €75.00 Per Set.

4 Flag Holder for MGA
The base is similar to the Indoor School Bending pole base however we have pre-drilled the holes at the correct angle and depth to ensure that the Product meets the MGA rule Specifications, each of the tubes can be removed but they are extremely tight to insert for the first time. €75.00 each.
set of 4 matching colour flags are €34 extra

Sharp shooter 
With a New Game in this Years Pony Club Games – this can only be used with Plastic Bending poles the clever design allows the target to be hit by a tennis ball and with the clip system falls, however the clip is  stiff enough to withstand a high wind. €15.00 each

Small sack
Typical for the sack race either for equestrians or for use in the school sports day.
Dimensions:- 1100mm (L) x 630mm (W) x 5mm (D)
Colours:- Brown
Weight:- 0.4kg
Price €10.00 each

Plastic Coin
Screen printed plastic coin can be used for a variety of age groups as it requires a level of dexterity to pick it up. Can be used as an educational tool or as part of a mounted game. One colour only. Plastic coins         €6.00 each Red timber coins €4.00 each

Jousting Competition set 
This consists of a board with 4 paddles mounted on hinges and an anti-rebound support for each paddle. The board is made of brightly coloured timber, the paddles and mechanics are made of plastic and treated metal. Use 750mm coloured cones for support (not Supplied)€290.00 for set of 4
Single Practice Jousting Paddle This is a single paddle board mounted as per the full competition board. Use 750mm coloured cones for support (not Supplied). €130.00    Cones 
Dimensions:- 750mm (L) x 60mm (Top Ø) x 430mm (Base)
Colours:- Blue, 
 €20.00 each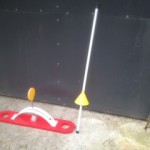 Jousting Lance  This is the Pole  used to knock the paddles down on the jousting board. It is made from a white plastic tube measuring 25mm  diameter .And a yellow plastic cone allowing a handle of 460mm. At each end there is a rubber stopper.   €27.00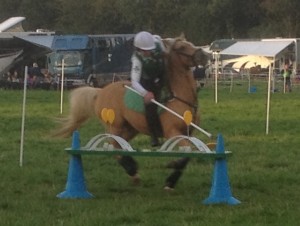 Windsor Castle Game.
Windsor Cone.This is a blue 750mm high cone with a decorative screen printed sleeve to give the castle effect.  €37.00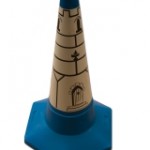 Dimensions:- 750mm (L) x 60mm (Top Ø) x 430mm (Base) Windsor Turret. This is shown with the Windsor Orb balanced on top as it would be in the a competition. It is made from  hardwood timber and turned for authenticity. €60.00
Dimensions:- Windsor Orb     €10.00
Total for all 3 pieces of the windsor Castle game €108.00
Hi-Lo Practice  net  for mounted games.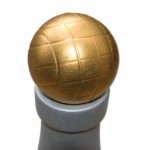 Tyre for Pony Games and MGA
new Tyre for games
€35.00 each
High Lo practice net
This is a pole that, when assembled, measures 7ft (2.15m) high and is made of plastic
. It is supplied with a net and a plastic 5kg base.
This type is not the most stable as the base is small
total price is €75.00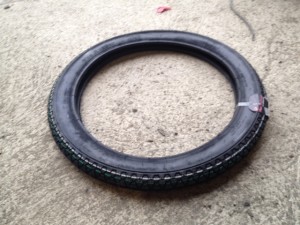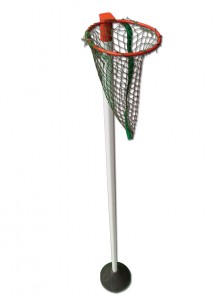 Bank race Kit and High Lo Net
Comes with the 4 numbers for bank ,Holder and Cone . Spike  to go in ground and the high lo net and the bank board
Total for both is €280
bank on its own is €200
high low net and pole on its own is €110
The ball cones are €21 extra for 2 cones and 2 balls
Saddle Holder and Tote €80.00
Saddle Holder and Tote €80.00 delivered nationwide.
Tired of standing your saddle on end on the ground, or in the back seat of the car to protect the tree?
Is it too much to carry all your grooming supplies plus your saddle when going riding or showing?
We've combined a saddle stand and a grooming tote into one portable and easy to use travel design that goes from the Tack room , to the car or trailer, and back again without hassle and you will always have everything you need when you get to the show .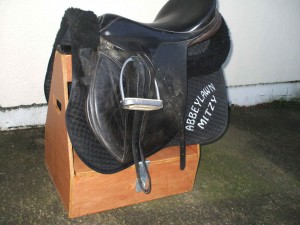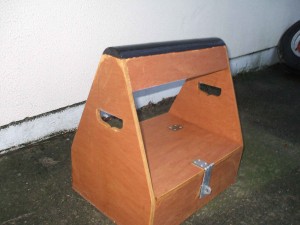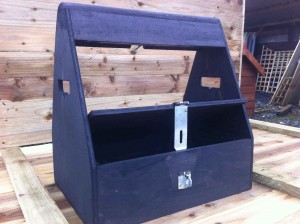 The Mobile Saddle holder can be finished in The light Oak look or in a Gloss Black .
The Height of the saddle holder is about 19″ and is 12″ wide and 19″ long .
The Saddle pictured on the first picture is a full size Berney Saddle for a 16  2 horse .Just to give you an idea of the size.
We can make in different sizes to suit and your saddle .