Field Gates
ALL of OUR FIELD GATES ARE MADE FROM PRESSURE TREATED TIMBER
AND ARE FINISHED TO A VERY HIGH STANDARD ALL GATES COME WITH GALVANISED HANGERS AND FASTENERS AND ARE NOT EXTRAS
WE ALSO MAKE GATES TO ORDER TO FIT THE OPENINGS YOU HAVE ON TIMBER POSTS OR CONCRETE ETC WE DO NOT CHARGE FOR OFF STANDARD SIZES FOR MORE DETAILS PLEASE RING OUR YARD AND WE WILL DO OUR BEST TO HELP YOU WE ALSO CAN FIT GATES FOR YOU AT VERY GOOD PRICES.
Ranch Gates
Ranch Gates for sale.
Ranch gates are ideal for a field entrance especially off a drive way up to a house.
The timber used in this gate is red deal and is pressure treated after being made.
The end timber is mortised together and is very strong. We now also put a heavy bottom rail like the top rail for extra strength.Most other companies making these gates only put a light bottom bar.
Ranch Gates can be single gates or double gates and can be hung on timber posts or on concrete pillars or walls.
We have a wide selection of hinges and fasteners to suit all gate requirements.We have the standard straight double band strap hinge and also offset types.
Gates come in any size made to order from 3′ up to 12′ wide .12′ wide is the max that we will make in a single gate as they are more likely to warp or twist over that width. For wider openings you would be better to go with a pair of gates.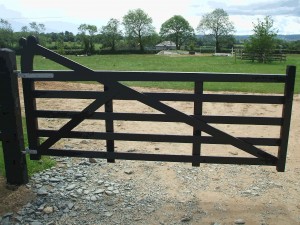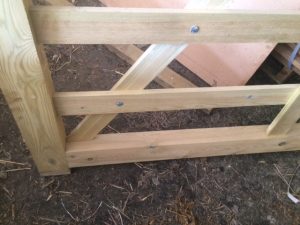 Heavy Bottom rail on all our gates.
All our field gates have the a heavy bottom rail similar to the top rail .
Most other companies have only a light 3×1 rail.
The heavy rail leaves the gate much more rigid and helps to stop the gates from twisting.
Paddock Gat
Paddock Gates supplied and fitted.
Paddock Gates are made the same as the ranch gates only they do not have the hockey stick type end and have a diagonal brace type design instead.The end timber is mortised together and the middle rails are bolted together.
The Timber in the gate is red deal. This is pressure treated with Tanailth E   which treats timber in a tank under pressure .This stops timber from rotting for years to come. It is still advisable to paint all timber anyway for a longer life.
Paddock gates can look great in most situations and are very easy to fit.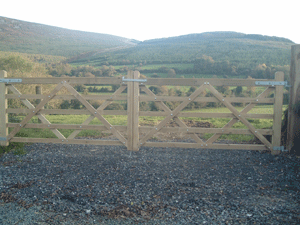 Our gates  are manufactured from the finest close grained RED WOOD  timber and are planed and sanded before being pressure-treated for a long life in the field.
Paddock gates can be fitted as a single gate up to 12′ wide and can be done as a double gate joining in the middle after that.The paddock gates look even better in the double gates.We have a full range of gate designs to choose from in our yard.
All our gates are delivered to the customer in a natural timber state, pressure treated with Tanilith E,which is a light green colour.  It is necessary that you apply a  good quality wood stain. This will prevent the timber from dis-colouration and will also act as a weather repellent .This should be applied once a year.
As timber is a natural product comprising of knots and grain, it is possible that some cracks may appear as timber dries.Cracks is not a fault in timber this is natural.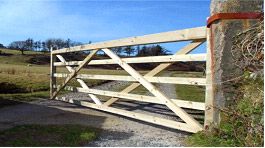 Rail Type Gates
Cheap Field Gates.
Rail type Gates is a great option for cheap field gates fitted in any location. This gate looks like the paddock gates and is made with 100 x 35 mm pressure treated timber and is bolted together instead of being mortised like the ranch and paddock gates.
The boards on this gate are doubled on the outside of the frame and nailed and bolted together for extra strength.
This gate is as strong or stronger than the normal ranch gates but almost half the price.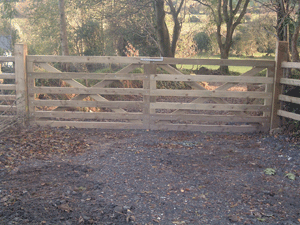 These gates can be made up in any size and also a range of heights to suit you. And also can have a picket type finish in the bottom to keep dogs from getting true if required.
We can space the cross rails in the gates to suit you and also put in extra rails with no problems. We can use a few different types of hinges on these gates to suit your requirements. We do not charge for off standard sizes in gates.
Why not call to our yard and see teh full range of gates on offer.