Steel Garden Sheds Supplied & Fitted Nationwide
All our steel sheds are Irish made and are not the cheaply imported types that fall apart in months. We pride ourselves on making quality steel garden sheds in a variety of styles to suit our customers' needs. If you are looking for the best custom-made steel sheds in the country, then you have come to the right place. Whether you are looking for small or large sheds, we have it all to offer you. All our products are exceptional quality and will be made to the highest standard. All the steel sheds are damp free due to the type of build that it is. Our prices are very affordable and trustworthy. Give us a call as we are the best steel sheds company in Dublin.
Steel Garden Sheds with a Timber Frame
The Timber Frame and lining inside, Making these the Best in the World.
Our timber frame steel garden sheds option combines the best of steel and timber together. The outside has a steel maintenance free finish and inside has the strength of the timber and also free from dampness due to this style of build. This type of shed also has a breathable wall and membrane.
Timber frame from €580 for a 6 x 6 
This is our new range of economy Small Steel Garden Sheds made with a timber frame. They are very strong and well made. They are lined on the inside on the walls and on the ceiling with a breathable membrane called Tyvek. The big advantage is they can be assembled on concrete blocks like a timber shed and does not need a concrete base. They come complete with a pressure treated timber floor so it will last and not rot.
We require the customer to have  4″ concrete blocks for to put the shed on .9 blocks for 8×6 .12 blocks for 10×8 etc 
This shed has the best of both worlds in that there is no maintenance to be done.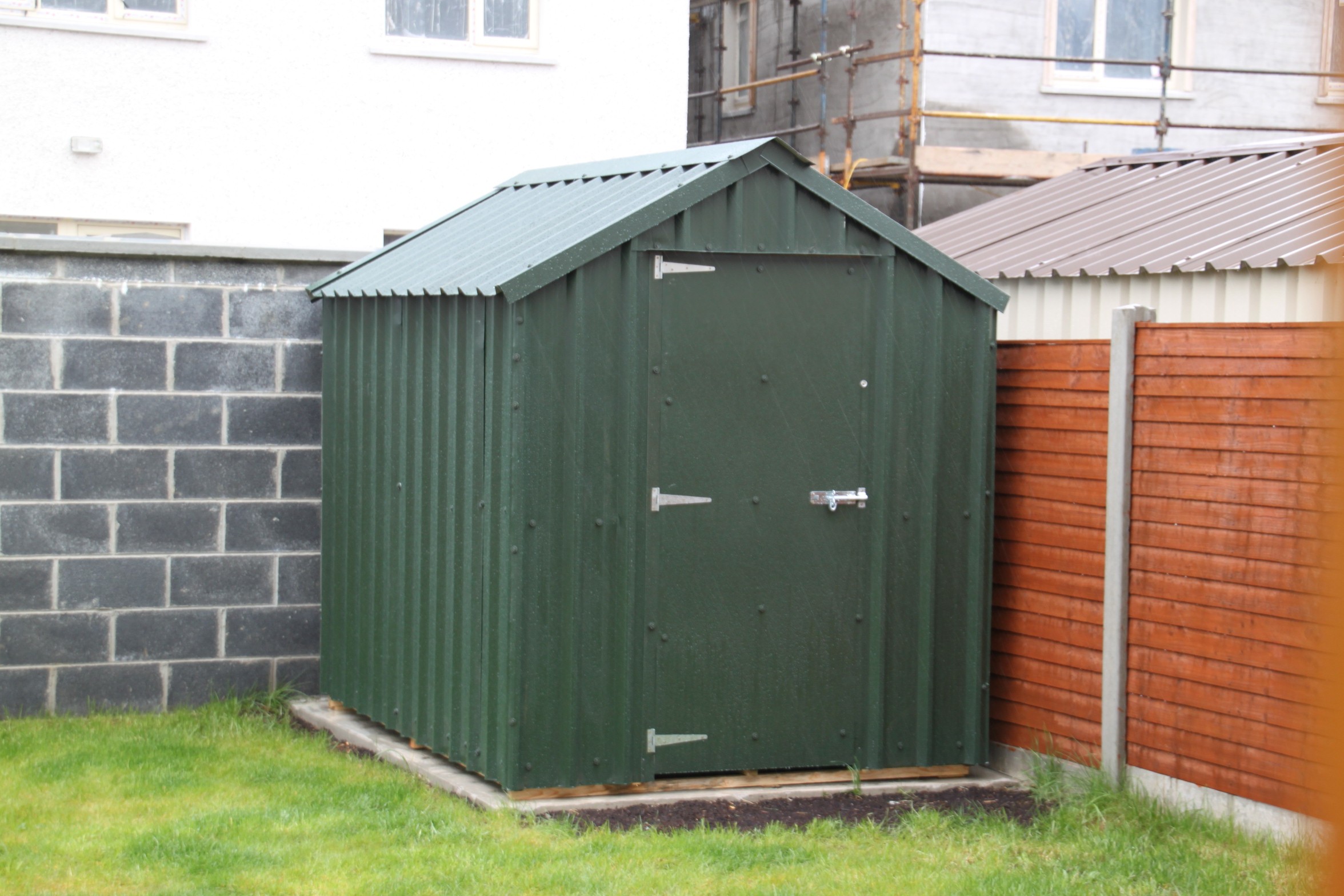 We make this shed in Green and Cream and brown Steel to keep the cost down. This shed is the strongest steel shed in Ireland for this price range.All the timber is pressure treated.
We make this shed in sizes up to 16×10  and  we would recommend if you want bigger to go for the normal steel frame garden shed .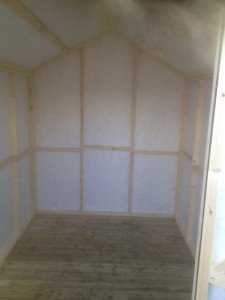 The Inside frame of the shed is made with 2 x 1.5″ pressure treated timber frame.
There is lots of frame in this shed and this leaves it very strong. There is no timber between the frame and the sheeting like our larger timber frame sheds but this can be done at an extra cost.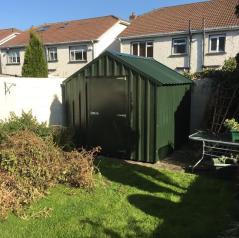 Prices for Steel Garden Sheds with timber frame – All in Green
Size                                  Paint Finish                 PVC Coated Finish               Cream sides and Brown Roof PVC coated 
6×4 shed                            €570.00                               €670.00                                     €700.00
6×6                                     €580.00                               €680.00                                     €730.00
8×6                                     €595.00                               €695.00                                     €740.00
10×6                                   €670.00                               €790.00                                     €840.00
8×8                                    €750.00                               €850.00                                     €890.00
10×8                                  €850.00                               €950.00                                     €990.00
Sizes are approximate and can be slightly different
Metric to imperial sizes are just to help you convert the sizes 
2 m = 6'6″      3 m = 10′       4 m = 12′ 9″     5 m = 16′      6 m = 20′       7 m = 23′      8 m = 26′     9 m = 30′ 
These prices are for supplied and fitted in Leinster area. But we do fit nationwide at an extra cost.If you ring us we can go true all your options and we can sort out exactly what will suit you best.
Heavy Duty Timber frame and timber lined steel sheds.
10×6 Timber Frame Steel Shed up to 16×12 Timber Frame Steel Shed
for prices please ring us on 0402-34703  /34986 / 34887
The Steel on the outside of this Garden Shed, Gives you a maintenance free storage space. And the timber osb board  on the inside gives you a solid wall and will act as insulation and will help to prevent damp and cold inside.  It also has a breathable membrane on the inside to also help stop dampness .For to stop dampness completely you will need some form of heat. You will also have a framed wall to fix shelves onto, Unlike in the standard steel garden sheds.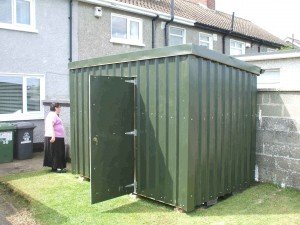 This shed can be made in a range different sizes from 10×6 up to 20×10
For the 10 x10 shed as in the picture, Supplied and fitted is €1800.00 including vat. The 10×6 is €1500.00 fitted.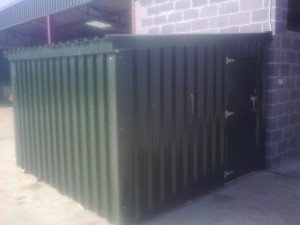 This is the Apex Roof option in the Timber frame steel shed. It is made along the same line as the sloped roof shed.
The 10×10 in the picture is €2000 supplied and fitted.
We can make most sizes in this design to suit your needs.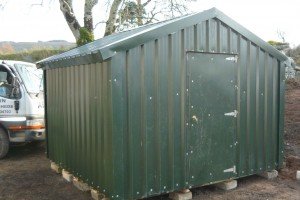 Heavy Duty Timber Frame Steel Garden Sheds with solid walls.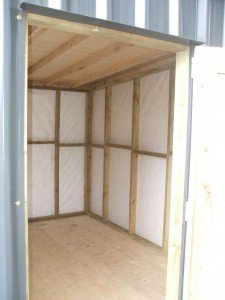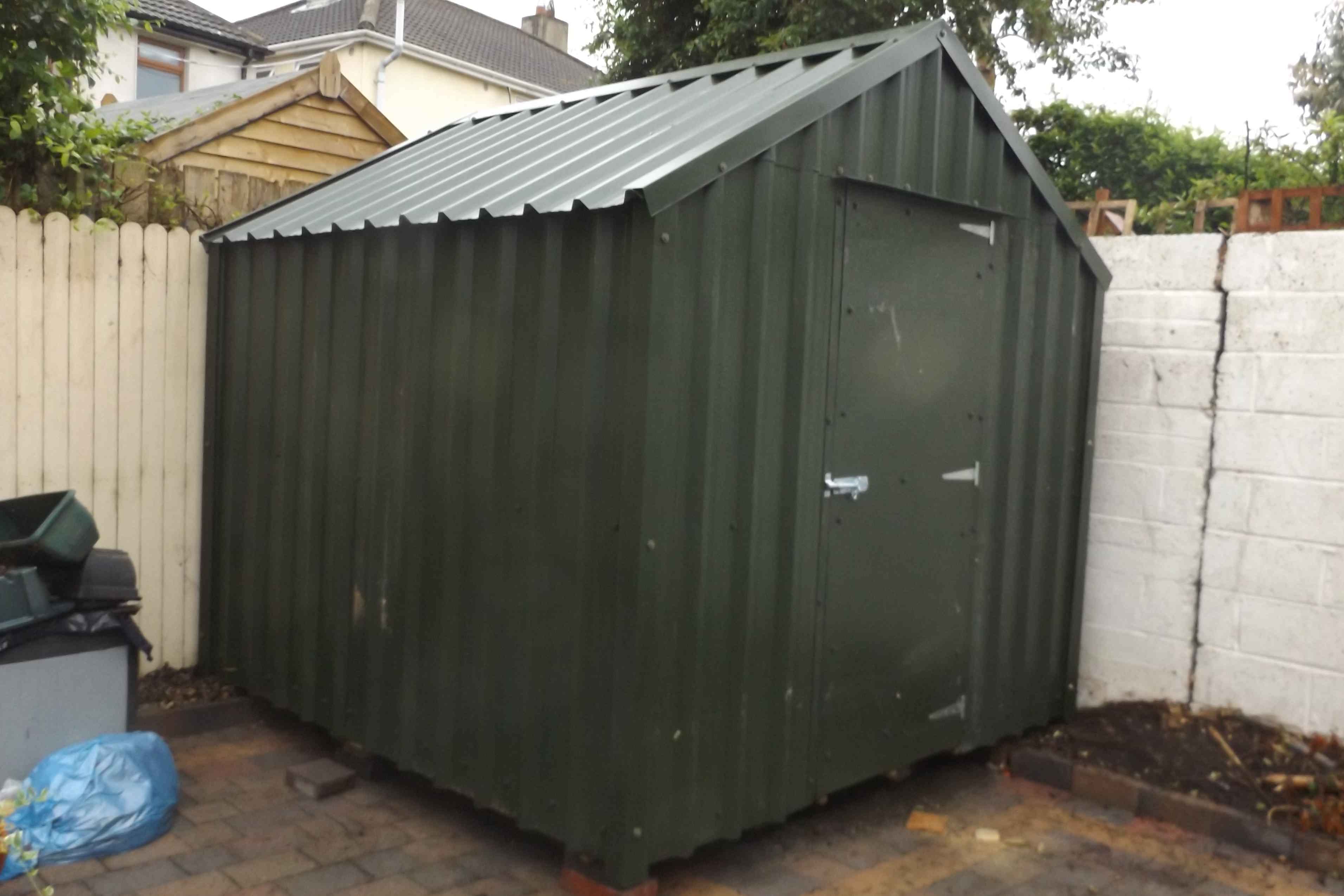 The Floor and roof of this Garden shed is 6×1 T&G Floor boards.
The side frame is 3×1.5″ Pressure treated timber for extra strength and has a membrane fixed on top of that, And then a layer of 18mm OSB board followed by the box profile cladding on the outside. This Garden Shed comes in the painted finish only and in Green and Grey.
Why not call to our yard in Co. Wicklow and see all options, And then decide what you like and what will suit you. Everybody has different ideas on what they want and we aim to please. If you want something different we can make to order.
Steel Garden Sheds for sale
All Abbeylawn steel garden sheds for sale and garages are made from a galvanized steel frame and sheeted with PVC coated cladding. This PVC is a thick plastic coating on the steel, which protects the steel from the weather and gives the shed an attractive look.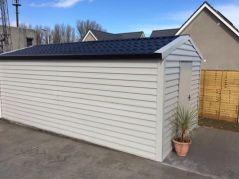 The shed comes in a variety of colours to blend in with your tastes and surroundings.The colours range from the most popular green, brown, cream, black and grey We also stock a large selection of other colours.
All Abbeylawn sheds are maintenance free. Due to the PVC coating, the shed will never need to be painted. The PVC coating ensures it will always retain its original colour.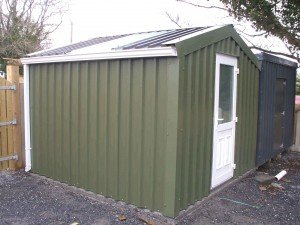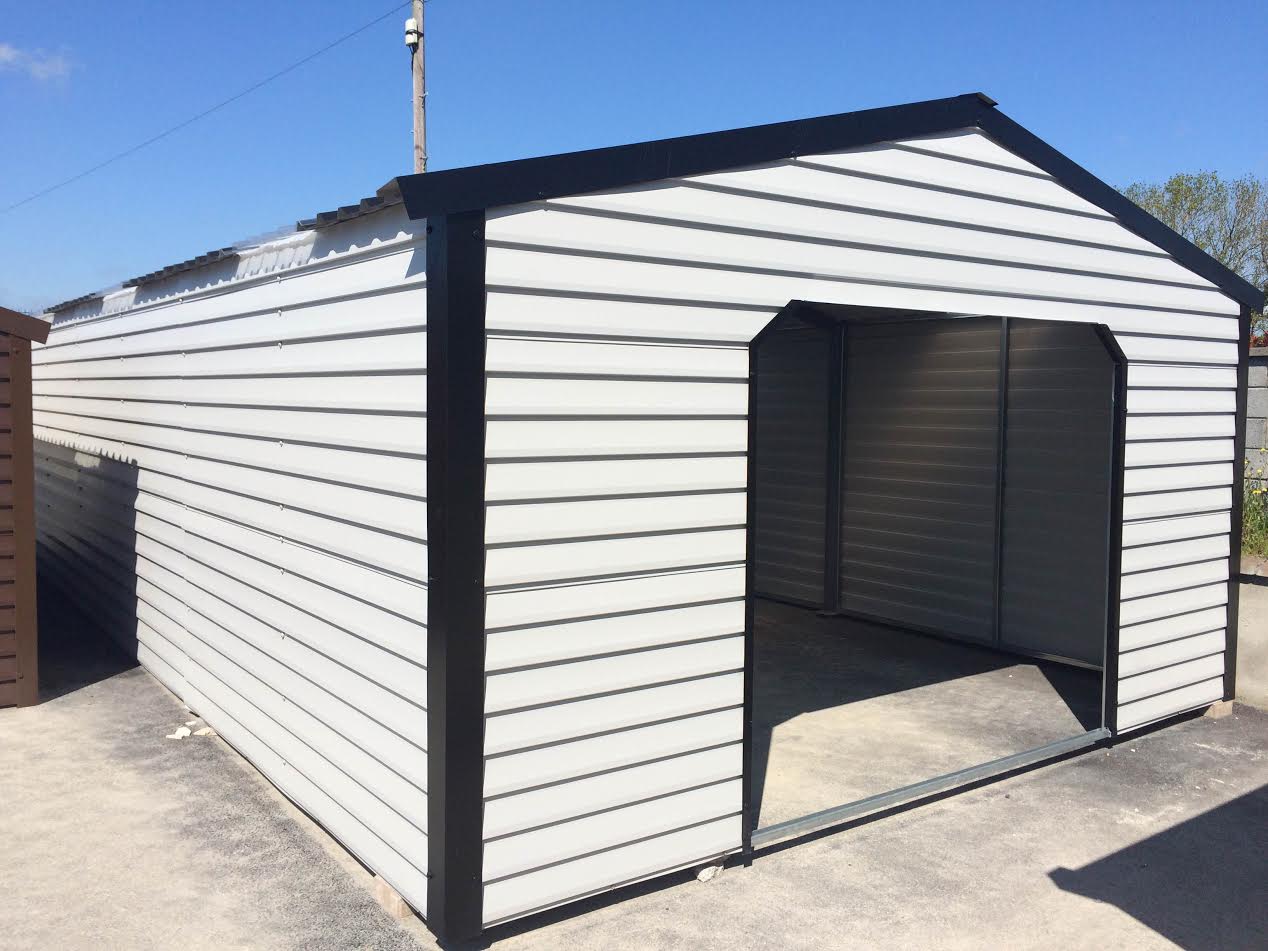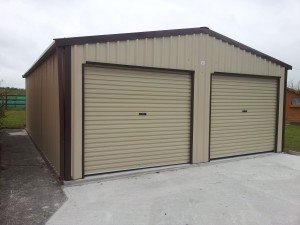 SPECIFICATION ON STEEL GARDEN SHEDS for sale & STEEL GARAGES
Our designs include three standard 7''and 10′ and 13′ eleven standard lengths ranging from 10′ (2850mm) long increasing incrementally in lengths of about 3′ each time.
All Abbeylawn sheds above 8×6 have 6' 6'' (1950mm) high sidewalls, with an ''A'' roof going up to 7' 6'' (2250mm) on 6' 6''(1950mm) wide sheds and 8'(2450mm) on all others.
All Abbeylawn sheds come with a standard door, which is 3' 4'' (1025mm) wide and 6' 5'' (1925mm) high. Double doors are also available giving a total of 6' 10'' (2100mm) when both doors are open.
All Abbeylawn sheds come with at least one clear sheet of fibreglass in the roof to allow natural light into the shed. This is a strong material that is very difficult to break or crack.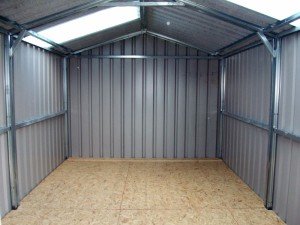 We Hand Build all of our sheds at our shop from the ground up. Every shed is made to order, so you can make any changes you need to for your shed no matter how big or small.
Abbeylawn offers the option of a wooden floor on our garden shed range. This is ¾'' (18mm) OSB.
We also offer the option of a tile effect roof, gutters and 3' x 4' (950mm x 1150mm) windows. See the price list for related details.
We will have your shed erected on site within one to three hours.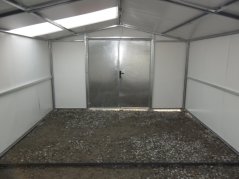 | | | | |
| --- | --- | --- | --- |
| Shed Size | Price | Tile Effect Roof | Wooden Floor |
| 3 x 2  in meters | €1350 | €175 | €200 |
| 3 x 3 | €1550 | €225 | €225 |
| 4 x 3 | €1725 | €275 | €255 |
| 4 x 4 | €2075 | €375 | €325 |
| 5  x 3 | €2075 | €375 | €325 |
| 5  x 4 | €2500 | €425 | – |
| 6  x 3 | €2500 | €425 | – |
| 6  x 4 | €2900 | €525 | – |
| 7  x 4 | €3600 | €625 | – |
| 8  x 4 | €3900 | €700 | – |
| 9  x 4 | €4200 | €775 | – |
Insulated Steel Sheds
Insulated Steel Sheds are a better option the standard ones. We have 25 mm or 40 mm double skin insulated steel sheds.
The insulated shed has 25mm or 40 mm of insulation inside of the standard one with another layer of flat steel on the inside to leave a nice clean finish.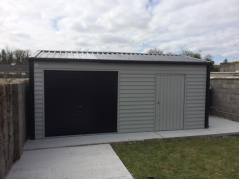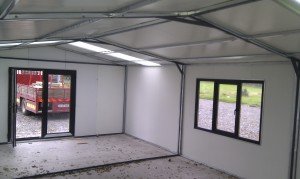 All Steel insulated sheds and garages are constructed using the highest quality materials
And can be made in a selection of colours and even in the Wood Effect in 25 mm and 40 mm insulation.
We supply and fit all steel sheds nationwide.
Price Lists For Standard and Insulated Steel Sheds
ALL Standard Steel  SHEDS HAVE A NON-DRIP ROOF AS STANDARD 
But our insulated sheds have a double layer of steel and insulation between so there is no need for the non-drip on the inside of the roof.
All doors fitted with security lock, lockable from both inside and outside.
Extras available for our steel sheds.
Extra standard door €150
Insulated door on standard sheds €150
Double Doors €150 Total opening 6'10″
Insulated double doors €400
PVC Door 1/2 Glass €550
PVC  Window €250 3′ High x 4′ Wide, With Opening.
PVC window 3′ high x 2′ wide €200
A level base is required for all sheds
We can arrange for a concrete floor to be fitted for you if you wish or you can do it yourself.
It is best practice to put in the concrete after the shed has been erected.
All prices inclusive of delivery, erection and V.A.T @ 13.5%
SHEDS & GARAGES
STANDARD SHEDS
25MM INSULATION
40MM INSULATION
WOODEN FLOORS
3 x 2 m
€1350.00
€2000.00
€2400.00
€200.00
3 x 3 m
€1550.00
€2375.00
€2750.00
€225.00
4 x 3 m
€1725.00
€2600.00
€3000.00
€250.00
4 x 4 m
€2075.00
€3100.00
€3650.00
€325.00
5 x 3 m
€2075.00
€3100.00
€3650.00
€330.00
5 x 4 m
€2500.00
€3600.00
€4200.00
 €380
6 x 3 m
€2500.00
€3600.00
€4200.00
 €380
6 x 4 m
€2900.00
€4200.00
€4900.00
 €440
7 x 4 m
€3600.00
€4850.00
€5700.00
 €480
8 x 4 m
€3900.00
€5400.00
€6200.00
 €520
9 x 4 m
€4200.00
€5800.00
€6800.00
Sizes are approximate and can be slightly different
Metric to imperial sizes are just to help you convert the sizes 
2 m = 6'6″      3 m = 10′       4 m = 12′ 9″     5 m = 16′      6 m = 20′       7 m = 23′      8 m = 26′     9 m = 30′ 
Prices
sizes                        Green or Mushroom with a black roof    Wood effect               Wooden floor
6×4                                                  €825.00                                    €900                              €75
6×6                                                  €850.00                                    €950                              €75
8×6                                                 €890.00                                    €990                               €100
8×8                                                €1050.00                                   €1175                             €100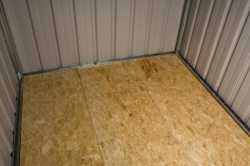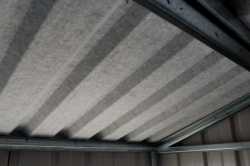 8×6 Small Steel Sheds Fitted for €890.00
Abbeylawn has a range of small steel sheds for sale from 6×4 to 8×8. These sheds come delivered Flat Pack or Fitted. These sheds are similar to the bigger options but come in smaller sections for to deliver without problems
As standard, we manufacture them with green sides, a black roof, and with a clear light in the roof.
They also come with a timber floor so you will not need a concrete base.