Planters
Abbeylawn make a large range of planters and flower boxes in a range of sizes and designs to suit every bodies needs.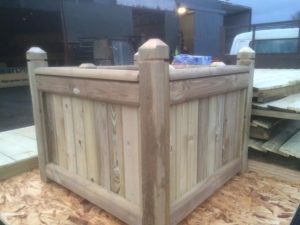 All our Planters are made extra strong and made using pressure treated timber . Our boxes have been used for large trees to just small flower planters .
They can be made in any size so they can even fit in that space you might need to fill.
Call us for full details on 0402-34703 / 34986 / 34887
Planters with trellis.
Abbeylawn can make a planter single sided or double sided with a trellis behind it .So you can grow plants and climbers on a patio or a deck. This will also give you privacy .