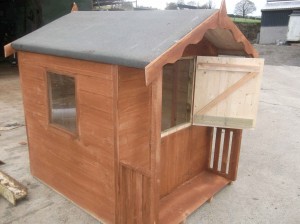 Small PlayHouse 4×4 flat pack €280.
Small Playhouses and Large Playhouses.
This is an ideal small playhouse for small children . It is made from imported kiln dried T&G timber  The shed is 4'x4′ and has a small varanda in front. If you have a very small garden or just a deck area ,This playhouse will do the job for you .it does not take up much space and still gives your child their own space .The glass in the windows is Toughened Safety Glass . We have a range of other options in small playhouse s. We can supply from our yard flat pack for  for €280.00. Or please ring us for a price supplied and fitted or for a delivered nationwide price.
Special; Offer for Christmas .
For playhouses ordered before 12/12/2018.
Flat pack collected from our yard €280.00.
Delivered flat pack Leinster €330.00.
Fitted  Leinster €340.00.
For more information please ring us on 0402 34703.
The Small tree house.
This is the Small tree house. Like our small playhouse this tree house will fit in most gardens . It is designed for a small garden and for young children .It is not concreted in the ground ,Instead it sits on a patio or deck or even on a hardcore yard . The shed is about 30″ high off the ground and has steps up to the varenda.
The shed is 6'x4′ and the varanda is 30″ deep .The sizes can be made to suit you and the steps can be to the front or the side as long as we know before making.
Click on the picture of the tree house to see more tree houses 
We are doing a special offer  price on the tree house for christmas for orders before the 15/12/2012
Flat pack collected €500.00 Fitted (leinster  )     €600.00
We also do a full range of other play houses and tree houses.  For more details ring us on 0402 34703. Or call and see options.
We can Make a small playhouse or large tree house  or den  any size to suit you.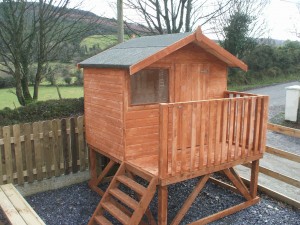 Play Houses and Dormer Den
The Dormer Den Play houses
ABBEYLAWN'S  WENDY PLAY HOUSES  & DORMER DEN is specifically designed for children, it comes in a Rustic and a Deluxe  and Barrel BOARD Finish and as Standard it comes with safety glass. We can make this playhouse in both the Deluxe (t&g type timber) and the barrel board type finish. Bearing in mind safety is the No. 1 factor in every parent's mind Abbeylawn design and construct all their products to the highest standards.The normal sizes in this playhouse is 6×8 and 8×8 and 10×8 . All our play houses are made to the highest standards and come with a 12 month warranty.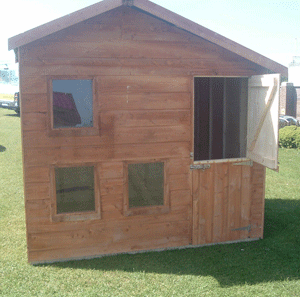 Play houses made to order.
We can also fit the dormer den play houses as a tree house. It is done the same as our standard tree house but with the dormer den fitted on top ,again it can be made in all sizes to suit you.
The legs of the tree house is concreted into the ground so it will not blow away.
Swings and slides can also be fitted or even added at a later stage .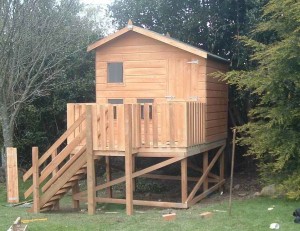 The inside of our dormer den playhouse.
This is the inside of the dormer den playhouse. There is a loft area about 30″ deep by 6′ with a ladder up to the top part. There is also a safety railing across the edge so small children can not fall off the edge.
If you have very small children you can leave the ladder off until a time they are able to use the ladder.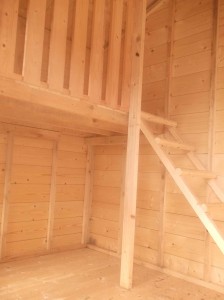 8X6 BARRELL BOARD PLAYHOUSE
Abbeylawn Sheds and Playhouses try to keep up to date on children's requirements.What child wouldn't love a Tree House? Again we have a wide range of options available or made to order.The picture to the right shows a barrel board type finish which is pressure treated and lined with a membrane on the inside.
This playhouse will last for many years to come unlike some of the cheap disposable options on the market.And can be used as a shed in later life when finished as a playhouse.
Visit our yard and see our full range of playhouses an display and make your mind up.Or ring us on 0402-34703 / 34986 for more information.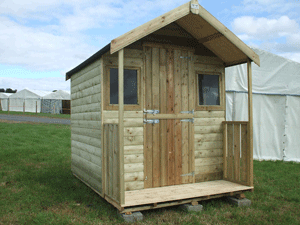 Playhouse available in rustic , Delux and Barrel board options from €480.00 Fitted.
This type of playhouse comes in rustic ,Delux and Barrel Board finish.It is an Ideal Play house for a small garden,There is a 2′ veranda and a stable doors.So the 8×6 model has a 6×6 shed and 2′ veranda.This design comes in a range of sizes to suit you.There is toughened safety glass in the windows. The picture on the right is an 8×8 Delux finish,This has a 6×8 shed and a 2′ veranda ideal for a couple of children to play in.
As with the majority of Abbeylawn's products The Children's Playhouses and Swing's are made to order to customer's precise specifications.Our Delux and barrel board timber is machined from imported Scandinavian timber.The floor and roof boards is 6x1T&G and 7×1 side sheeting. The rustic has a 16 mm floor and roof with boards butt joint and 10 mm side boards overlapping timber.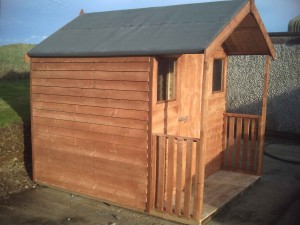 Sand Boxes for sale made to order.
The Sandbox is designed to look like a lorry ,Which will give children of all ages somewhere to play .Then you put the sand in the back part making it look even more like a lorry .It comes with a timber lid to keep cats and dogs out of it .Which is great for to keep the  sand in one place and not all around your garden .
We do not normally paint the lorry sand boxes as they are pressure treated .And most children will have their own ideas on painting and can do it themselves . Children will never get tired of playing in this sand box ,It has more to keep them interested in it than on a normal sand box . The Lorry sand box for sale  is €250.00 collected or we can arrange delivery by courier .
If you have a different design in mind we can do a price on it for you .
 Sand box for sale delivery opional nationwide
Lorry Loaded with sheds for delivery 
The picture on the right was taken just before a courier collected a lorry sandpit to go to Cork .There was also a small play house going out the same day that was sitting on the back .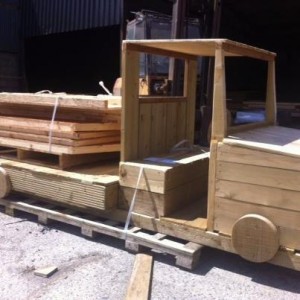 Sand box for sale,Looks like a Lorry .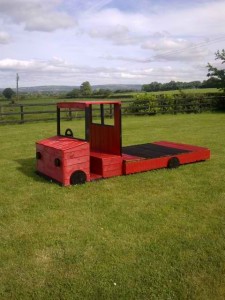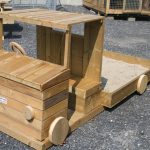 Sandpit with picnic bench.
This is our new design of Sandpit combined with a bench
The total size of the bench and the sand pit is aprox 8′ x 4′
The sandpit is 4′ x 4′ and comes with a lid that lifts off the top
The bench area will seat 4 children
Total price supplied and fitted is €380 ( 100 mile radias )
4'x4′ Sandit on its own is another option 
Comes with a lid
Collect it from our yard for €130
or delivered nationwide for €50 extra