Slat Mats
Slat Rubber for Cattle and Cows.
Our Slat Rubber Flooring has been proven to increase comfort, reduce lameness and increase growth in animals. The comfortable surface of the mats are high grip to increases mobility.This will leave the animals safer and also will allow them to eat more and they will have a higher growth rate.
Slat Rubber is designed to improve the welfare and comfort of stock on concrete slats .
And in doing so increase milk production in dairy herds and live weight gain of beef cattle .
Slat Mats for suckler cows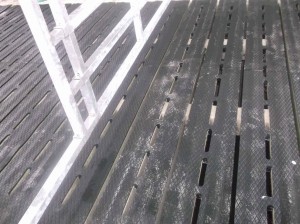 Slat mats are also a big bonus for the welfare of suckler cows on slats ,Showing a big differences in lameness while on slats over the winter .
Slate rubber is designed for dairy cows ,suckler cows ,cattle fattening and bulls .
The Rubber Strips are available in a range of sizes to suit all slats and are very easy to fit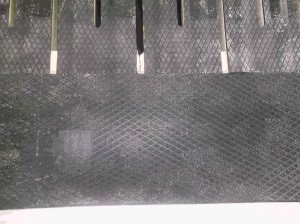 We supply Slat Rubber to meet all our customers requirements. Regardless of slat size.
We carry Slat Rubber to cover slats from 97 mm. width to 305 mm width. Our slat mats are a two-strip system covering two slats at a time.
This ensures good coverage while optimizing gap openings.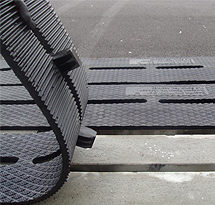 This tried and tested wedge system means that our Slat Rubber is an easy D.I.Y install for farmers.
There are no additional fixing materials required. The rubber is held in place by
means of the rubber wedge that is put in with a sledge ensuring a tight secure fitting. Even the heaviest
and most aggressive bulls are unable to shift the rubber slat mats when fitted properly.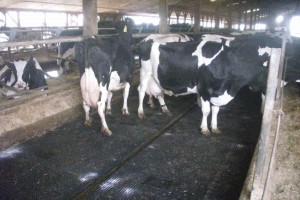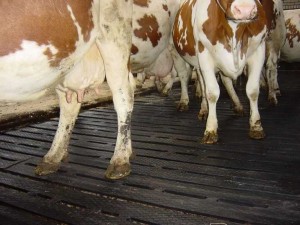 Advantages For Dairy and Beef Housing on Concrete Slat mats.
Prevents lameness.
Improves heat detection due to enhanced foothold and comfort – almost the same as pasture.
Automatic scrapers glide easily over slat rubber.
Improves milk yield and fertility (primarily as a result of decreased stress).
Angular surfaces improves run off and therefore animal cleanliness.
Excellent for young stock and bulls (no bedding and reduced labour costs).
Increased animal confidence, comfort and welfare.
Improves thrive and welfare.
Increases live weight gain and profitability.
Keeps cattle cleaner due to sloped profile.
Proven product under bull beef for 8 years.
Installed in over 6000 farms worldwide.
D I Y slat rubber system-95% of farmers fit themselves.
Manufactured to ISO9002 standard.
DLG Signum Test Approved.
Suitable for New or Old slats, all sizes catered for.
Sloped profile to increase drainage & reduce emissions.
Slat Mats for sale. all types of slatted houses.
Rubber Cow Slat mats for sale.
Our slat rubber is Signam Tested and Manufactured to ISO 9002 standards and comes with a 5 year warranty.
The Diamond pattern on the surface of the rubber also has a built in slope between the slots Which firstly gives animals more grip . And also help to keep the rubber cleaner with less traffic .
Abbeylawn stock all sizes of mats to suit all slat sizes and types.For to get an accurate price for your slatted house.You will need to measure the width of the rib of the slat , the length of the slat and the space between the ribs on the slats .
Then count the number of ribs or slats there is.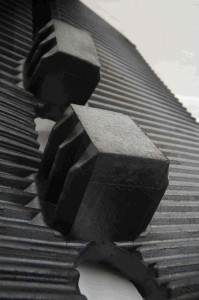 Rubber Slat mats for all Cattle and cows.
The double Slat system works great in all types of slatted houses.And is very easy to fit .All you need is a sledge to knock in the blocks between the slats.
The mats are in two pieces for the length .If your slat is 12′ 6″ long the slat mats will be 6′ 3″ long. or if the slat is 14′ 6″ the slat mat will be 7′ 3″ long.
We can also supply rubber mats for the emptying gang slat.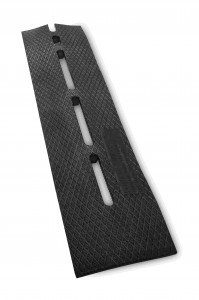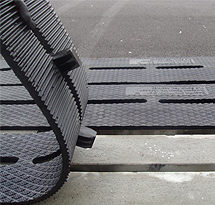 Toe Space Mats.
The Toe mats are as important as the slat mats and come in 3 widths.
1 Foot , 2 Foot and 3 Foot wide and are 7 foot 7 inch long so it is 2 mats long per bay of a shed normally 4.8 mtrs.
The mats can if required interlock on the ends .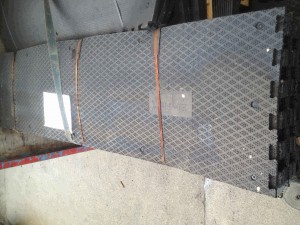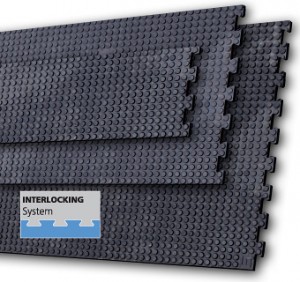 Cubicle Mats
6′ x 3′ 9″ Cubicle mats and 6′ x4′  for €50.00 each including vat @ 23%.
Our cubicle mats provides a great value solution to your comfort needs. This standard cubicle mats with its bubble under side, offers a reasonable level of comfort at a basic price.These Cubicle mats are great value for money .The mats are 3′ 9″ wide to suit cubicles and are pre-drilled for to screw down to concrete bed. It is recommended to use plastic fixings with stainless steel screws which will not rust.
The mats are softer than the normal 6×4 stable mats and have a fine dimple top that will not hold dirt .This mats is very strong and will not wear out for many years to come.The solid rubber mat is also good in that it is not porous and will not hold bacteria.Other advantages are Increased Yields & reduced veterinary costs.
When livestock are warm and comfortable they yield better. With the cushioned effect of our Cubicle Mats, you will find a reduction in solar ulcers resulting in less veterinary bills.This mat can also be used for other uses including gyms and work areas for walking on over hard concrete floors.
For more information please ring us 0402 34703 Ger.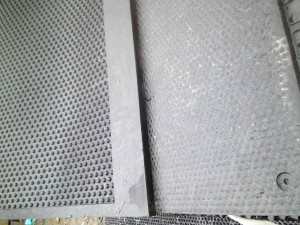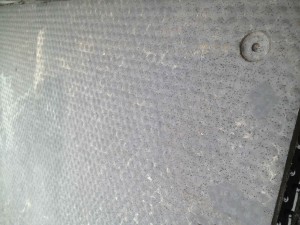 Rubber Cow Mats for Cubicles.
STANDARD TYPE COW MATS for cubicles.
This is the best value for money cow mat for cubicles on the market .
Available in straight edge and interlocking 25mm thickness and are 6'x4′ These mats are very strong and long lasting . And very easy to install The HONEYCOMB under side of the mats allow for extra softness for the cows They have a non slip top surface Cow mats are also non porous which is very important as they will not hold bacteria.
This mat is very soft and is still strong and long lasting.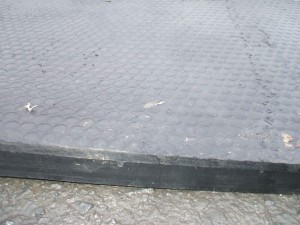 Rubber Mats for Cows – Max Grip Type
Max Grip Rubber Mats for cattle sheds.
These rubber mats are hard wearing interlocking mats. They provide a high-grip walking surface for dairy cows and cattle. This durable mat has a wide range of uses through out a dairy farm. Including in walkways, feed passages, in the milking parlour and in the collecting yard.
They are also suitable for using in passages with Automatic scrapers.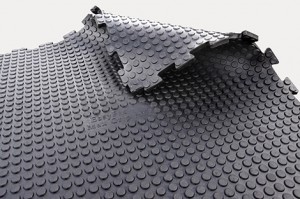 Rubber cow mats have a lot of advantagesin cubicles including.
Lower cell counts for dairy cows
cleaner cows
less work cleaning cupicals and bedding them
comfort for the cows so they will produce more
This mat comes in a straight edge or with the interlocking sides where the mats can join up.
The mats are screwed down on the 4 corners to hold in place. It is best to use stainless screws and plastic fixers for this.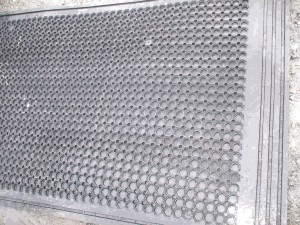 Mattress Type Cublicle Mats for sale.
Mattress Type Cubicle Mats for sale.
This mat is the most comfortable rubber mat for cows.
Available in straight edge and interlocking 25 mm thickness and are 6′ x 3'9″.
These mats are very strong and long lasting .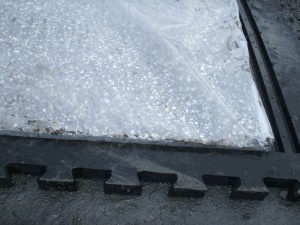 Cubicle Mats for sale at unbeatable prices.
This mats comes with 25 mm Latex Foam Insert with plastic cover under the rubber surface.
This leaves this mat very soft and comfortable. It will not expand, tear or warp out of shape (unlike EVA Mats).
This rubber mat is a Non-Porous surface and will not hold moisture or bacteria.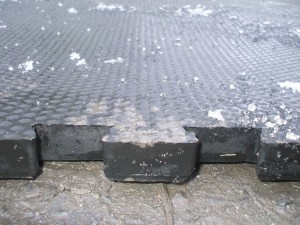 The mats are easy to fix and only need 4 stainless screws on the 4 corners.
If your cubicles are not standard 3′ 9″ wide we have spacers that go between the mats so they run in line properly.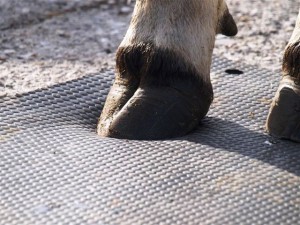 Rubber mats suitable for use with automatic scrapers.
FEATURES
1 x 1 mtr rubber mats 20 mm thick
High grip penny type top surface.
Interlocking on 4 sides for seamless finish.
Suitable for use with automatic yard scrapers.
A very hard wearing rubber compound.
Suitable for high traffic areas.
And is still a soft mat.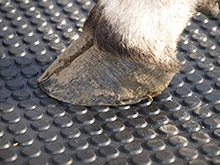 The main advantages of using high grip rubber mats.
High grip mat, ideal for use in walkways and passageways.
Reduces slipping and reduces risk of cows doing permanent damage.
Reduces lameness and associated costs (lower veterinary bills, reduced use of antibiotics).
Improved heat detection due to more confident standing.
Easily power washed for clean environment.
All our rubber mats is manufactured from high quality
rubber. Our rubber compounds have been refined and perfected to ensure
the optimum balance. With durability and softness to ensure that our rubber
mats are comfortable and long lasting.
The high grip bottom surface profile will provide unmatched grip.
While our ribbed or bubble under surfaces provide high comfort levels.
Our slat rubber has been tested by the internationally recognized DLG
(German Agricultural Society).And has passed their strenuous Signum Tests.
Including resistance to wear and tear, elasticity and deformation ,
Also with ease of installation and grip.
Veterinary Box or Medical box for your shed
Medical or Veterinary Box
This box is designed for to go in your farm sheds so you have your injections and dosing under lock and key and also where you need it.
All medicines should be locked away anyway but is also specified by dept of agriculture.
Box is 1.2 mtr long and 75 cm high and 30 cm deep.
The box can be fitted to any wall and takes up very little space.
It can be fitted inside or outside the building and is roofed with felt so will not let the wet in .The timber used is T&G type timber that will not be damp.
We can deliver nationwide by courier for €180 including vat or collected for €140.00
Please ring us for full details.