Wheelie Bin Cover Sheds for sale
Wheelie Bin cover Sheds are a great way to hide your wheelie bins.This is suitable for going at the front of your house for your bins if you do not have a side entrance and do not want to drag a bin true your house.And is very easy to use if you are recycling by just lifting up the lid of you shed and bin inside.
We do a recycling unit for to hide wheelie bins in different sizes from single units for 1 bin to 3 units for 3 bins or we can make to order.
The Units come either assembled or flat pack.
All the timber is pressure treated so will last for years to come.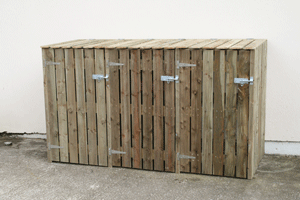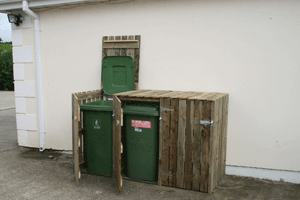 Wheelie Bin cover sheds PRICES
1 BIN UNIT €200.00
2 BIN UNIT €250.00
3 BIN UNIT €290.00
PRICE INCLUDES VAT BUT DOESNOT INCLUDE DELIVERY
6X3 DELUX TIDY SHED
This shed is designed to fit in even the smallest garden.It can be made at different heights to even fit under a window. It is done in a way that the doors open out opening up the shed for access. to all parts without having to step inside the shed so you use all of the storage space available.

FOR 6X3 SHED IN THE RUSTIC DELIVERED AND  FITTED            €350.00

FOR 6X3 SHED IN THE DELUX  DELIVERED AND  FITTED            €450.00

We recommend the deluxe model as it wont be damp PRICE INCLUDES VAT AND  DELIVERY 100 KM RADIUS. We can Make in all sizes and designs to suit your needs.