Jump Cups and Jump Strips for all types of show jumps for sale.
Special Offer on Jump Cups and jump strips or jump tracks.
We are doing a 5′ long galvanized steel strip that will fit any show jump wing or up right .They are screwed in place with 10 screws ( not included ) to a timber or plastic jump.
The strips or tracks  are €12.00 each including  vat.
Steel jump cups are €7.00 each 
steel safety cups are €10.00 each 
Plastic cups are €5.50 each 
plastic safety  attachment for cup €5.00 each 
We recommend the steel cups for a long life as the plastic cups can crack and break.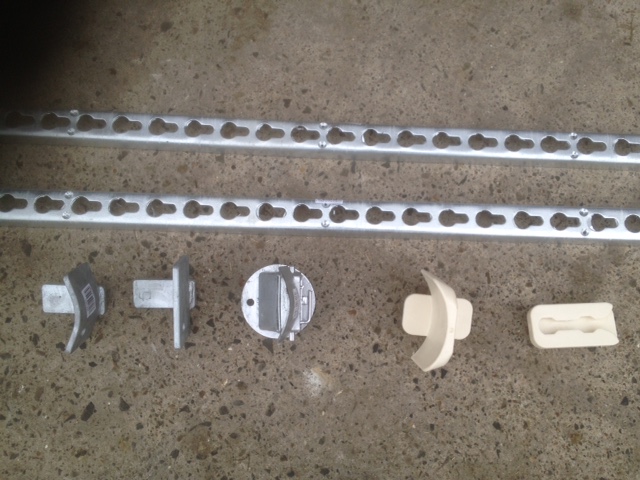 Standard Wings Show Jumps Ireland.
Abbeylawn is leading the way in show jumps Ireland. With  Standard Wing Including Legs & Strips €180.00 12′ Planks with Steel Ends €25.00 each unpainted.
We make a wide range of wings to suit all your needs. We can make a mix of different show jump wings if you are getting a number of jumps.
These wings are the standard type with the angle down on the top rail .Made with 4″ newel posts with rounded corners this is the strongest show jumps made in Ireland.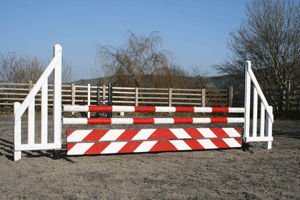 All Show jumps are  priced unpainted painting is extra.
Show Jumping Numbers / Dressage Markers
Show Jumping Numbers and Dressage markers in plastic.
Our Show Jump Numbers markers are the natural progression in design from the Elite markers. With our design based on practicality and strength the Summit markers are easy to carry, sturdy for any ground conditions and easy to clean and maintain.
Dimensions:- 505 mm (H) x 313 mm (W) x 40 mm (D)
Colour:- White
Weight:- 0.412 kg
Our set of numbers come in a easy to carry set of numbers 1 – 12 with 2 x A and 1 of B and 1x C and are €180.00 incl vat.
The numbers come loose ,the carrier box is €20 extra per box 
Extra numbers  and letters are €10.00 each.
Steel Markers
We also supply the steel jump numbers.
These are €100 for the set of numbers 1 – 12
Extra numbers and start and finish are €10.00 each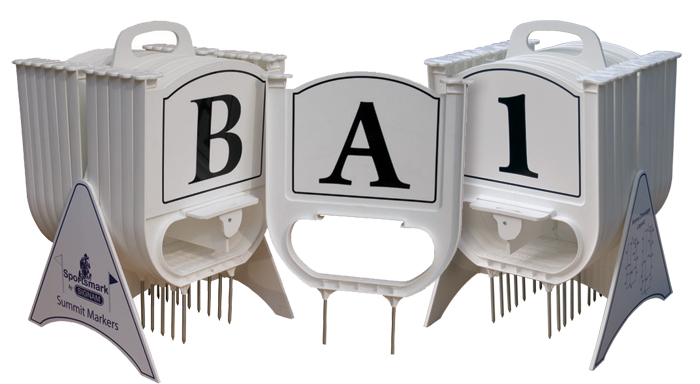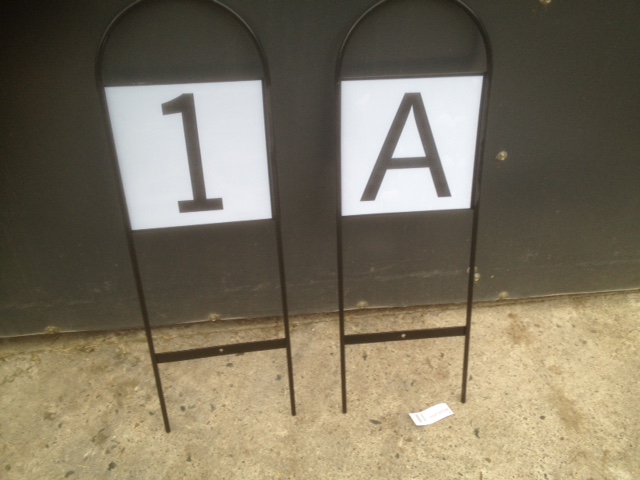 Herringbone Wing Including Fixed Timber Legs for extra Stability €330.00 Herringbone Filler €65.00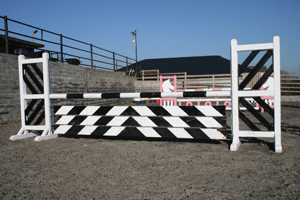 Wall Piers & Arch Filler €500.00 12″ Jump Poles €19 each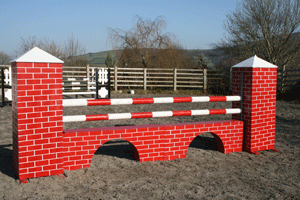 Circle Wings Including Fixed Timber Legs for extra Stability €330.00 Circle Filler €90.00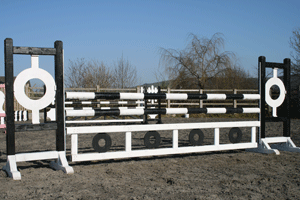 Picket Wings Including Fixed Timber Legs for extra Stability €330.00 Picket Fillers Free standing €130.00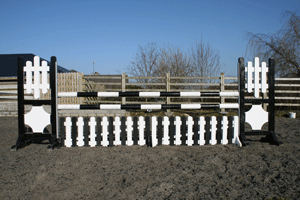 Horses Head Including Fixed Timber Legs for extra Stability €330.00 Circle or Horseshoe Filler €90.00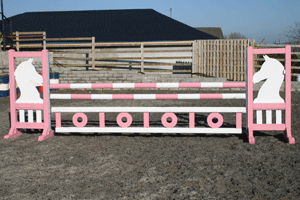 The Horse Shoe Jump 600mm High at the Lowest Can be customised to suit requirements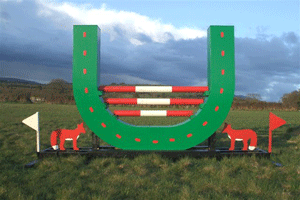 Sunrise Wings €180.00 Per Pair Sunrise Filler 18″ High €70.00 Jumping Poles €19 each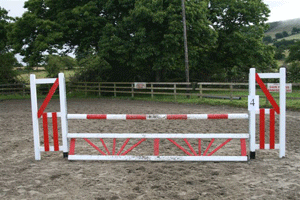 X Type Wings €180.00 Per Pair Jumping Poles €19 each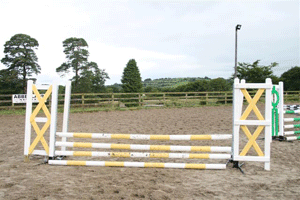 Straight Bar Wings €180.00 Per Pair Jumping Poles €19 each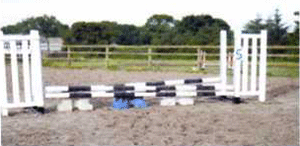 Horse Shoe Wings €200.00 Per Pair Horse Shoe Fillers €90.000 Jumping Poles €19 each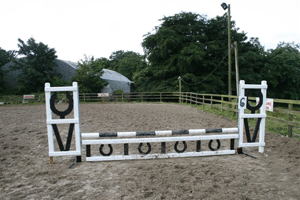 Diagonal Wings €180.00 Per Pair Jumping Poles €19 each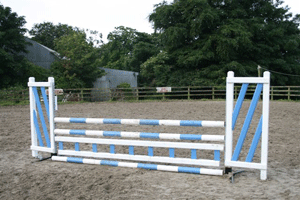 Standard Wing Including Legs & Strips €180.00 12′ Planks with Steel Ends €25.00 each