Picnic Benches
5+6ft Benches and our Round Benches are very strong and stable and are designed to be used at pubs and public places.
The Round and Hexagonal Benches are ideal for Family Barbeques etc.
They seat 8 people and you don't have to lift your legs in over the seats.

6' PICNIC BENCHES €180.00
All Abbeylawn Timber Picnic Benches are made from top quality imported planed timber.
Finished in a pressure treated green colour finish, bolted and screwed together.
All benchs are assembled so there is no messing with flat packs.
The boards are 4.5 " x 1.5″ thick so are good and strong and will not turn over even
with 2-3 people sitting on the same side.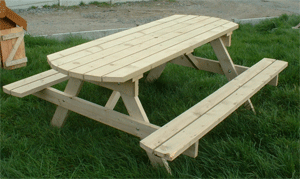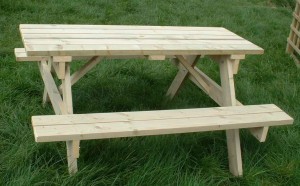 All our picnic benchs are on display in our show-yard
The 6′ Picnic Bench is the old reliable that will fit in any garden. It will seat 6 adults comfortably and still does not take over a small garden.
This is also the ideal bench for Pubs and beer gardens. It is very strong and will not turn over even with 3 people are sitting on the 1 side.
8 Seater ROUND Picnic Table €340.00
8 Seater Round Bench
This is a great option for any house or pub beer garden.
It seats 8 people comfortable and you don not have to step over the seat to sit down.
It takes up 7.5 ft at the outside edgesBut We can Also Make Bigger to order.
The 8 seater round picnic bench is a nice piece of garden furniture around any garden. This Bench will not fit true a house or low arch.Parasol size 35mm aprox
Please contact us about other options.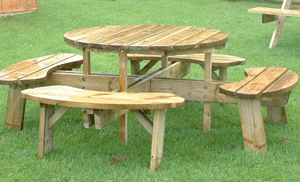 Another option is the 8 seater round bench with backs on the seats.
This can also be made bigger like in the one in the picture below.
This Bench and all our benches are made with imported Timber and are Planed all over.Parasol size 35 mm aprox
All the timber is pressure treated.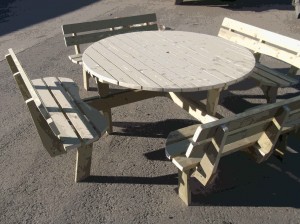 8 SEATER BENCH Hexagon Type €450.00
8 Seater Hexagon Bench.
This bench is like the round bench for size.
But is done with corners instead of round.
A nice piece of furniture in any garden.
This Bench and all our benches are made with imported Timber and are Planed all over. All the timber is pressure treated. Option with Backs on the seats.
3 and 5 PIECE Picnic Bench Set from €390.00
This is the 3 piece Bench set and comes in 5′ and 6′ long  and is ideal for any family and there is no stepping in over the seats as the seats are not attached.
The seats can also be taken away and used separate.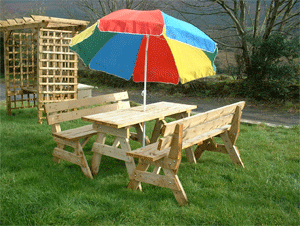 The 5 Piece Bench set has 2 End Chairs. This Bench and all our benches are made with imported Timber and are Planed all over.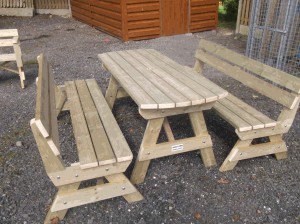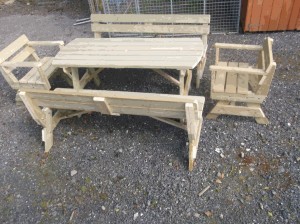 Swing Seat €350.00
This swing seat is an ideal way to relax on a nice sunny day or even a wet day as the roof will keep the rain off.
It will sit on grass  or on a patio.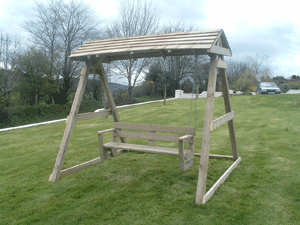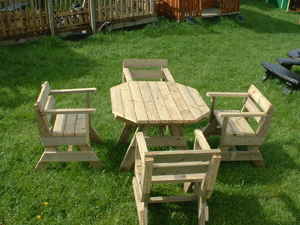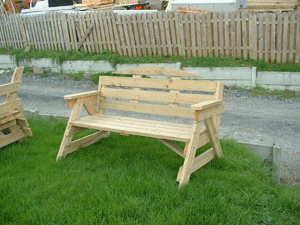 6′ Picnic Bench with Back €250.00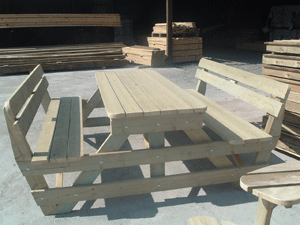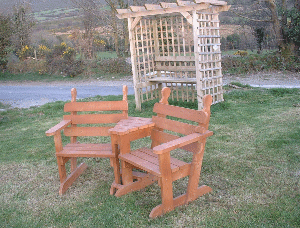 Picnic Tables
PICNIC BENCHS FROM €150.00
WE HAVE A WIDE RANGE OF PICNIC BENCHS
INCLUDING THE STANDARD 5\' AND 6, PICNIC BENCH
THESE ARE VERY STRONG AND ARE EVEN SUITABLE FOR PUBS AND STILL LOOK WELL FOR ANY HOUSE
THEN WE HAVE THE ROUND AND HEXAGNOL 8 SEATER
BENCHS FOR EXTRA COMFORT AS YOU DONT HAVE TO LIFT YOUR LEG OVER THE SEAT TO GET IN TO SIT AT THE BENCH
THERE IS ALSO THE TABLE AND SEATS SEPERATE
WHICH GIVES THE COMFORT OF A BACK SUPPORT
AND YOU CAN ALSO USE THE SEATS ON THERE OWN WHEN YOU ARE NOT USING THE TABLE
All our Benches are made from Kiln Dried Imported Pressure Heated Timber. The legs and joints are bolted together for extra strength.