Dog Mats and Heated Dog Mats
Dog Mats is a great option for any dog. Especially for older dogs these will bring new life back into them.
The dog mats come in a range of sizes to suit large and small dogs and cats.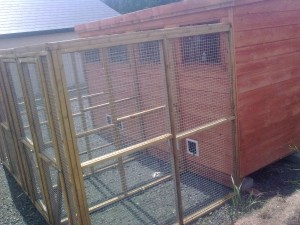 Boarding kennels + Boarding Kennels with Runs
We make a wide range of dog housing ranging from a single kennel for 1 dog to A housing unit for boarding kennels.
Dog mats also come not heated.
 25 mm thick mats        Standard                           
 1.1 meter by 0.5 meter         €50.00
1 meter by 1 meter               €75.00
2 meter by 1.4 meter           €125.00
We also have other cheaper mats that can be used under dogs ,Please ring for more information.
Shed With Dog Kennel and run
12×6 shed with 12×6 roofed mesh run
The shed on this is divided into a storage shed for the house and a 6×4 shed for the dogs .This leaves there is no need for 2 sheds in your garden ,Both leaving you more space and looking better in your garden .
We can make this in any size or design to suit your needs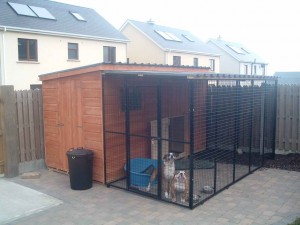 Dog Sheds & Dog Runs
Timber Frame Dog Sheds, runs and Kennels
This is a great option for any house with 1 or 2 dogs .This dog kennels has a 6×4 sleeping area for the dogs and a 6×6 covered run to the front . This type of dog kennel or dog sheds will look better than the industrial type of runs and still do the same job at a better price .
For the 10×6 shed and run it is €1250.00 supplied and fitted
12z6 shed and run is €1450
10×8 shed and run is €1700
We also do other sizes and designs to suit you .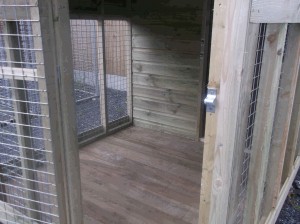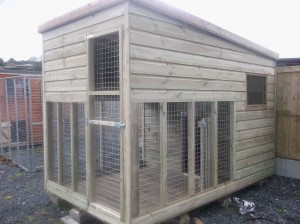 All our Dog kennels and runs are made from Galvanized 2″ Weld mesh. The inside of the shed part can also be lined with steel as an extra option .But for most dogs this is not necessary. The timber used in the dog sheds and frame is all pressure treated. weather board ( delux type ) is used on the outside .The timber is almost an inch thick so is good and strong .
The roof is timber and has felt on top .We can also fit steel box profile cladding on top for about €180.00 extra. We have the 10×6 model on display in our show yard where you can see the strength and the look of the kennel .
This is probably the best value kennel on the market and is strong and warm .Many of our customers have came back to us to let us know how well they have worked for them.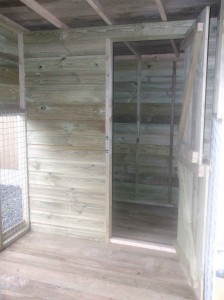 Bigger Options Available.
Like the 10×8 beside this picture We can make other options including dividing the shed and run and have 2 separate kennels and runs .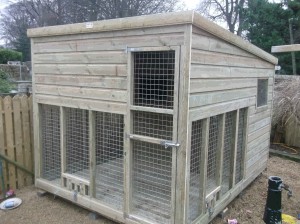 3 Dog Kennels in a block.
This is a great option for a house that needs dogs or cats divided in different areas.
This looks great in a garden unlike steel runs.
We can make to order to suit your needs.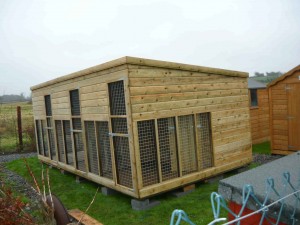 This unit can be made for Dogs and also For Cats .
We can also line inside with steel or timber if required.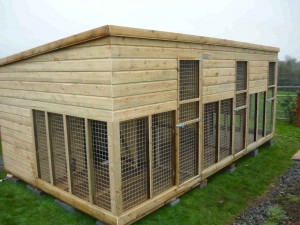 Insulated Dog Kennels and Runs.
This unit is being used in Dublin Airport for the security Dogs.
It is very warm and safe and best of all looks great.
All the Timber is pressure treated and the steel is galvanized.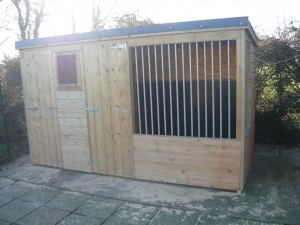 Timber Dog Sheds or Kennels are much warmer than steel or even block kennels.
This kennel has a steel lining up 4′ high inside of the kennel to stop dogs from chewing the timber .It is also lined with timber and has a breathable membrane in the walls .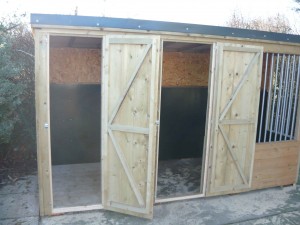 Boarding Kennels
10 Boarding kennels with Runs
Each kennel is about 7'x4′ and has a corridor on the back for feeding etc .And also acts as a secure area when you open the door of the kennel so the dog can not get away .
The outside runs are all galvanized and are about 8'x4′ with gates to the front
We design and make all buildings and runs in our own yard to our customers ideas
For more details please ring us on 0402 34703 or call and see our display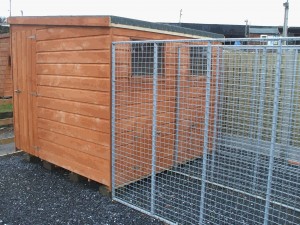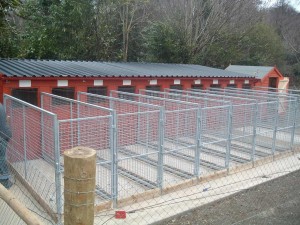 Dog Kennels with Runs Attached
We make Dog Kennels in all shapes and sizes to suit your needs.
The picture beside this shows 6 Kennels with corridor to back with  individual runs attached. Each dog has a 8′x 4′ run and a 5′x4′ kennel. The runs are also roofed on this building.
We make any design to customers specification.
All our dog kennels are made using top quality timber and the inside can be lined with timber or steel. We can also allow for ventelation which is very important. The roof can be felt or steel box profile.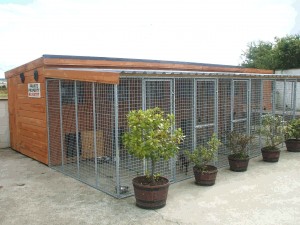 Dog Runs in Galvanized steel weld mesh.
We make all types of dog runs in both galvanized and painted finish. We can also fence in a large are for dogs with a P V C coated weld mesh type panel .
We can make our dog runs in most sizes to order .
We would normaly have a few standard sizes in stock ready to go .
We have a display of dog runs and dog kennels in our show  yard ,Where you can see better what you want .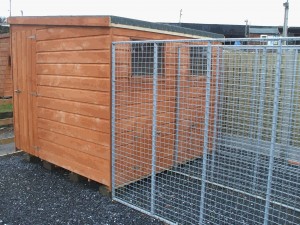 Rubber Mats for Dogs
We also have rubber mats which are used for dogs to lie on or on a run if you do not have concrete. The mats will stop them from digging and prevent muck in the dog run.
Affordable Dog Kennels
For bigger boxes,  we can make to order or go with standard garden sheds with sizes starting from 6'x 4'
Standard Dog Boxes are available in sizes
4'x4'  Dog Box €250 
4'x3'  Dog  Box €190
3'x2'  Dog Box  €150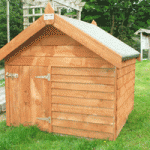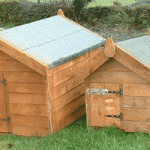 Cat Houses and Catteries made to order
Abbeylawn make Catteries and cat houses to suit all your needs .We can build a house and ruin to your specifations, Including insulating and lining. We normaly make the cat houses with the delux type timber which is 7″x1″ weather board on the sides and a T&G floor and roof . Most of our Catteries have a corridor on the outside which acts as a safety to stop cats from getting past you ,When you open the door. This means even if they get out past you they are still in the corridor .And also you are inside in the shed feeding them or doing other work.
A felt roof is standard on the cat houses but we also have other options including the steel box profile roof, which is a life time job and no leaks. We also have a timber roof under the steel for to keep warmer . We can put cat flaps or small doors out to the runs which you can close off if you want to.
The runs on the outside are mostly made from Timber with 1″ mesh wire on it ,But we can aslo use heave weld mesh if you want for extra security and can be steel frame also.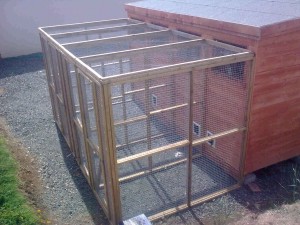 80′ x 16′ Shed
Abbeylawn can make anysize of shed to order and to most designs .
If you have an idea of a shed you want built for dogs, cats ,storage or somewhere to just put a tv and get away .
We can make a games room or an office to suit your budget and design . If you go to the Timber Buildings section at the top of the page You will see more larger buildings