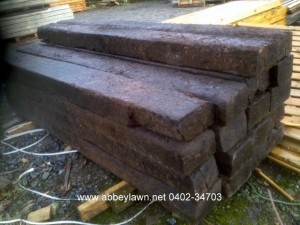 Reclaimed Railway Sleepers
Top quality reclaimed
Pine railway sleepers at great prices Only €30.00 each including vat.
The reclaimed  Oak sleepers are €35.00 each including vat
These sleepers are approx 8′- 8'6″ long and are 9″ x 5″.
The pine and oak sleepers are treated with creosote for a long live
They are ideal for holding back and retaining banks. Also suitable for kerbs and lots of other uses. Delivery can be arranged nationwide.
Ring for full details on 0402-34703 / 34986.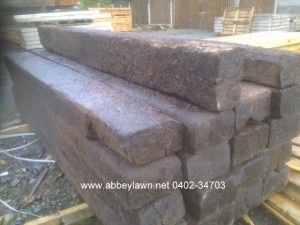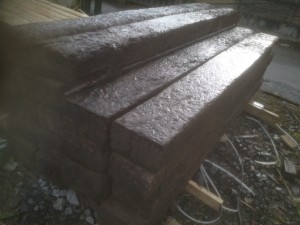 Railway Sleepers for Sale NEW €20.00 each
Railway Sleepers
The new Railway sleepers in the picture below are a very easy way of fitting a kerb, or holding back a bank of clay .They can be easily cut easy with a hand saw for a small job or a chainsaw or electric saw for bigger jobs. We can also supply and fit if required.
Abbeylawn are Selling the new Pine  railway sleepers for just €20.00 each
This is probably the cheapest Railway sleeper to be found in Ireland. Our Railway  sleepers are 2.4 mtr x 200 x 100   or 8′  8″ x 4″  and are pressure treated with brown Tanelith E.
We also have another sleeper the same size.The timber in these sleepers is Douglas Fir  which is a better and longer lasting timber .It is an Irish red wood and is pressure treated also .
These are €24 each for the same size 2.4 m  long 8″ x 4″ .
The 2 sleepers look exactly the same but the difference is the type of timber.
We also supplied a lighter 3″ pine sleeper that looks the same.We can sell these for €16.00 each.
and douglas for €18.00 each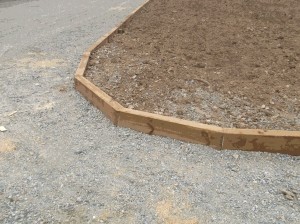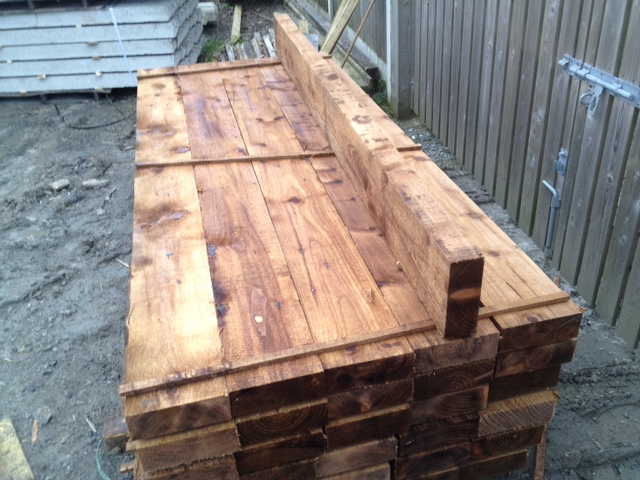 New Railway Sleepers,
If you want the black look the same as the old railway sleepers  it is only a coat of black Ronseal for to get that colour.
These are ideal for kerbs  like in the pictures above.They can be cut easily and can follow the course of any drive with no hard work .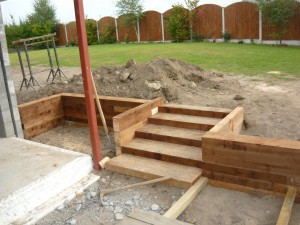 And there are no problems trying to cut the new sleepers. Unlike the old type which have nails and bolts  stuck in them and maybe are half rotten when you get them .
The sleepers can also be used to hold back banks of soil when levelling a garden .They can be fitted in steel R S J s or retained with Timber posts or even the sleepers themselves .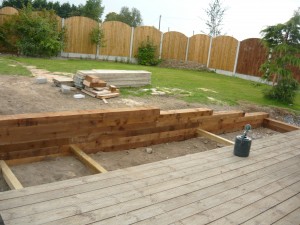 Oak Railway Sleepers
New Oak Railway sleepers for sale.
New Oak Railway Sleepers for only €39.00 each.
Imported oak sleepers.
These sleepers are suitable for all types of uses including Kerbs and retaining banks.
They are more rustic looking than the softwood sleepers and have 2 straight sides and 2 rougher bark edges.This gives you an option which you want to show.
Aprox 8′ long and 8″ x 4″
Hardwood Railway Sleepers
New Hardwood Railway sleepers for sale.
These are imported Birch and Alder  Railway Sleepers for only €29.00 each.
These sleepers are also suitable for all types of uses including Kerbs and retaining banks.
Normal a good clean sleeper that is pressure treated brown and looks like the pine and Douglas fir sleepers.
Aprox 8′ long and 8″ x 4″